MQ-9B SkyGuardian®
Unmatched Situational Awareness
MQ-9B SkyGuardian is the next generation of remotely piloted aircraft systems (RPAS), delivering persistent intelligence, surveillance and reconnaissance (ISR) around the globe. SkyGuardian is designed to fly over the horizon via SATCOM for up to 40 hours in all types of weather and safely integrate into civil airspace, enabling joint forces and civil authorities to deliver real-time situational awareness anywhere in the world—day or night. The aircraft is outfitted with the revolutionary Lynx Multi-Mode Radar, an advanced electro-optical/infrared sensor, automatic takeoff and landing, and features a longer wingspan than its predecessors at 79 ft (24m). However, SkyGuardian goes beyond sustaining industry-leading endurance and collecting real-time intelligence. It seamlessly integrates with its users and their equipment, while expanding the missions of RPAS in support of the warfighter and civil authorities.
SkyGuardian can be configured to conduct a number of ISR operations, including but not limited to:
Humanitarian Assistance/Disaster Relief
Search and Rescue
Law Enforcement
Border Enforcement
Defensive Counter Air
Airborne Early Warning
Electronic Warfare
Anti-Surface Warfare (SeaGuardian mission kit)
Anti-Submarine Warfare (SeaGuardian mission kit)
Airborne Mine Counter Measures (SeaGuardian mission kit)
Long-Range Strategic ISR
Over-the-Horizon Targeting
Open Architecture Design
SkyGuardian is derived from a family of systems that has achieved over 7 million flight hours over the past decade, supporting operations around the globe, from the battlefield to environmental and humanitarian efforts. Drawing on this experience, SkyGuardian provides enhanced payload capacity and an open architecture system that enables the aircraft to integrate the most advanced sensor payloads for intelligence gathering, survivability, and even kinetic payloads for more complex operational environments. SkyGuardian features nine hardpoints (8 wing, 1 centerline) with a max 4750 lb (2155 kg) external payload capacity. This enables armed forces and governments to easily integrate sovereign payloads and mission systems for their own uniquely tailored solutions.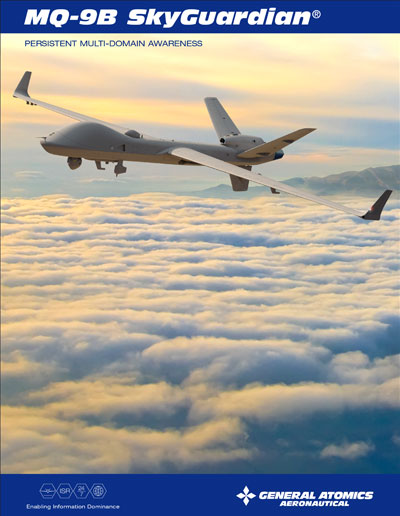 World's First Type-Certifiable RPAS
As an MQ-9B RPAS, SkyGuardian is designed from the ground up to not only meet NATO standards (STANAG 4671) but also to comply with civil airspace requirements in the U.S. and around the world. Using GA-ASI's first-of-its-kind Detect and Avoid System and Certifiable Ground Control Station, SkyGuardian seamlessly integrates with normal air traffic just like other commercial aircraft. SkyGuardian's remote flight station gives operators a similar, if not better, air traffic picture than the cockpit of human-crewed aircraft. Over the years, GA-ASI has been working very closely with the U.S. Federal Aviation Administration and the UK Civil Aviation Authority to approve MQ-9B for flight in civil airspace.
The UK's Royal Air Force is currently leading the way and will be the first advanced force to operate this aircraft under their own designation, Protector RG Mk1.