General Atomics Aeronautical Small Business Program
GA-ASI's Small Business Commitment
General Atomics Aeronautical Systems, Inc.'s (GA-ASI) policy is to encourage small businesses owned and controlled by socially and economically disadvantaged individuals, women-owned small businesses, HUBZone small businesses, veteran-owned and service-disabled veteran-owned small businesses and other federally recognized socio-economic categories defined in the Federal Acquisition Regulation (FAR) or Defense Federal Acquisition Regulation Supplement (DFARS) in its procurements. To facilitate this participation, GA-ASI's Small Business Program has been designated as GA-ASI's organizational function to execute its corporate policy, objectives, and contractual obligations.
Mission of GA-ASI's Small Business Program
To execute internal and external research and marketing activities that support GA-ASI's commitment to identify capable and qualified small business sources, and then measure and report their performance to internal and external stakeholders.
GA-ASI has assigned Mr. Tony Vigo (858-524-8904) as the Small Business Program Manager / Small Business Liaison Officer. Small Business supplier inquiries, questions and company information can be sent to GA-ASI-Small-Business@ga-asi.com.
Please review GA-ASI's products and services to learn more about our core competencies. For specific information on the types of products and services that we consider from small business suppliers, please review the Small Business Program Flyer. If your firm offers products, services, and/ or supplies that are complementary to the development and/ or sustainment of any of the products or services that we offer to our customers, we invite you to initiate an inquiry by registering your business in our Small Business Registration portal.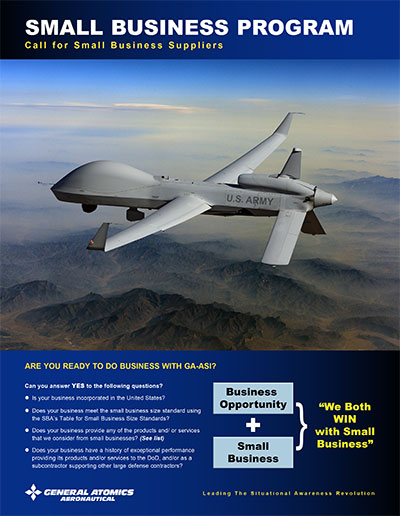 Links to Small Business Assistance & Information Resources