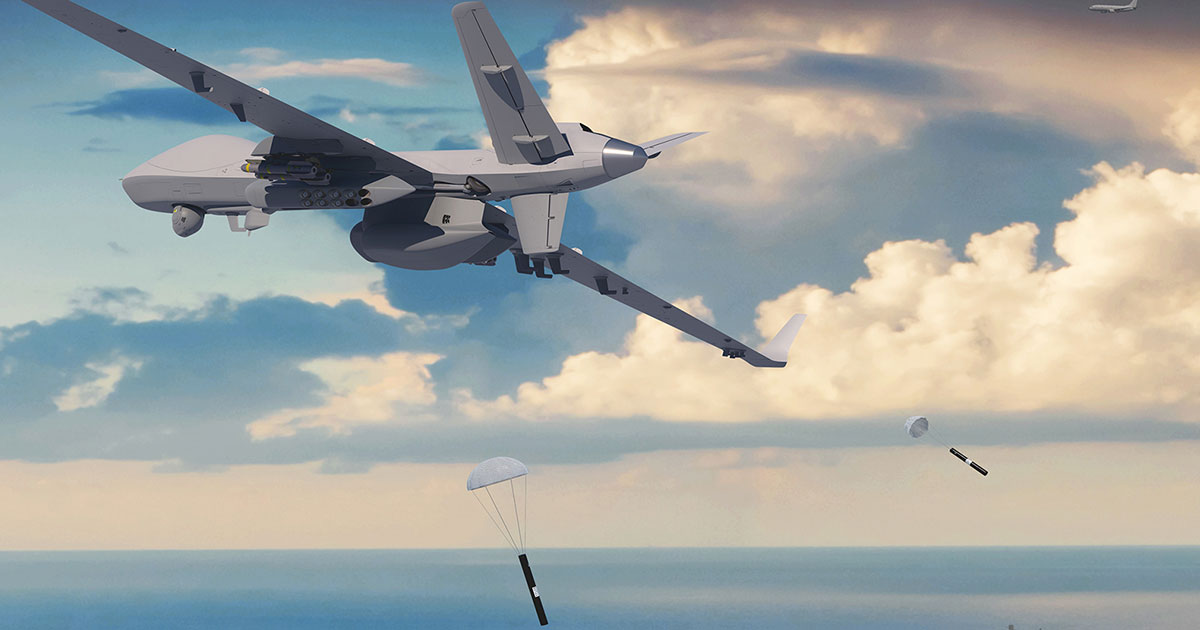 IDEX Underscores US-UAE Relationship, Importance of UAS
The number of American defense leaders gathering in Abu Dhabi for IDEX 2023 underscores the importance of the security relationship between the United States and the United Arab Emirates.
Washington and the UAE have spent years building deep ties based on a set of shared priorities, including a simple – but critical – joint dedication toward peace and stability in the Middle East and North Africa.
That vision helps to organize all the companies and other entities that support it, says Dave Alexander, president of General Atomics Aeronautical Systems, Inc. (GA-ASI), the San Diego-based global leader in remotely piloted aircraft.
"This is one of the world's most important centers of commerce, and the nations here are serious about safeguarding that along with preserving stability across the region," Alexander says. "We're proud to be able to play a part in supporting these nations' regional interests."
GA-ASI manufactures the MQ-9B SeaGuardian® and other multi-mission aircraft considered optimal for the Arabian Gulf region and beyond. The platforms can fly for 24 hours or more, carry a variety of payloads, and transform search and rescue, customs enforcement, intelligence operations, and more.
Alexander describes an "incredible amount of interest" in aircraft systems such as the SeaGuardian around the Arabian Gulf region. That's not only because of its features and capabilities but because of the maturity of the systems involved – and the resulting quickness with which everything can be brought into operation as compared with a new aircraft.
"There are a lot of things that make SeaGuardian uniquely valuable: it can fly longer than anything else in this category, cover more distance, carry more payloads, and handle more missions," Alexander says. "But what's also important is that it's not a wholly new airplane. In other words, the nations we work with aren't taking on the risk associated with going out and designing an aircraft off a clean sheet. MQ-9B uses our proven designs and systems from our earlier-model systems, including the MQ-9A Reaper, but it's bigger and it's more capable in every way. Our users are excited about it because it takes a known, well-established baseline and pushes it to the next level."
If earlier or smaller-model unmanned aircraft were essentially single-purpose systems, the latest generation has changed all that, Alexander explains. The versatility of the MQ-9B is another factor that makes it so ideal for Arabian Gulf or other regional users. Alexander ticks off examples on his fingers as he goes.
"A single aircraft can do many different things, including on a single mission. It can conduct surveillance over land, coastal areas, or open waters – whatever you need. It can collect intelligence. It can carry any number of specialized payloads, as warranted, in order to support other missions."
One example, according to the company, is with communications relays. SeaGuardian can, in effect, serve as a giant wireless router for a naval task group where elements spread out over difficult terrain make it difficult to use conventional radio communications.
Another example of the way a payload can change the work of the aircraft is with a maritime search radar. Mounted underneath the SeaGuardian and complementing its onboard sensors, the radar transforms the aircraft into a powerful maritime domain awareness platform.
"If you've got a couple of them, and you're working in teams – one goes out while another's coming back. Say you have a simple setup like that, you can stay overhead for as long as you want," Alexander says. "And if you can stay overhead pretty much nonstop, think about what you can do. You're not doing 'search' and rescue anymore, necessarily. You don't need to 'search' in a lot of cases. You go right to rescue."
Almost nothing, in other words, can take place on the surface of the land or sea without MQ-9B seeing it, Alexander explains. These aircraft can search beneath the waves, too, with their capability to release and monitor sonobuoys to seek out undersea contacts.
All this contributes to the regional interest in MQ-9B at events such as IDEX in Abu Dhabi – but what also excites the GA-ASI team is the ability to tell a real-world, operational story about these aircraft, Alexander says.
"It's not science fiction – it's not a, you know, an aspirational presentation," he says. "MQ-9B has been proven out extensively. The Japan Coast Guard is operating MQ-9B aircraft today to conduct maritime domain awareness in very important waters in the Western Pacific. Other nations are doing something very similar as well. And we've had a number of successful exercises with international partners all over the world, including in Europe, the Mediterranean, and off the West Coast of the United States. No one else has the kind of experience we and our partners have in doing this."