Claw 3 Integrated Sensor Payload Control and Analysis Software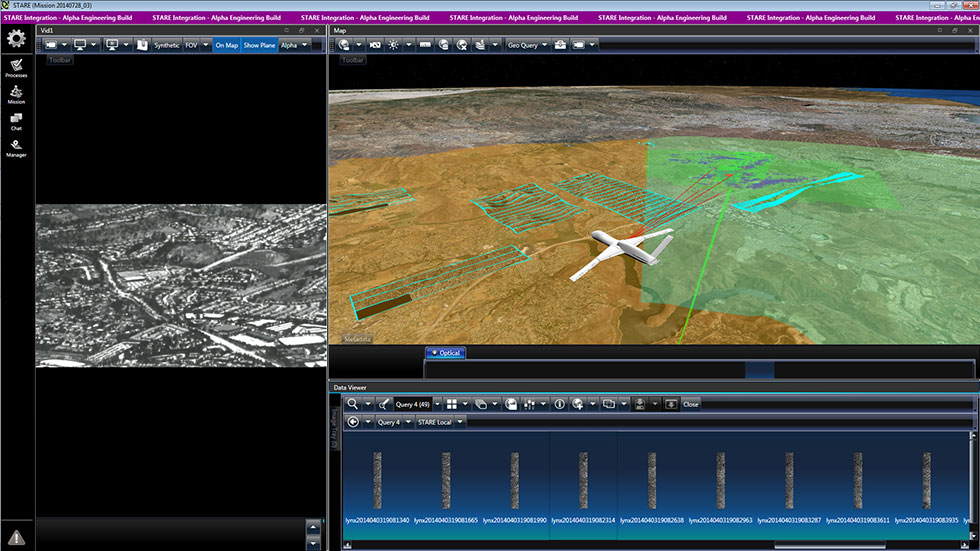 Claw Mission Management Software
Claw® mission management software enables crews to conduct end-to-end multi-sensor Intelligence, Surveillance, & Reconnaissance (ISR) operations and brings clarity to the battlefield through task automation and intuitive map-based displays. Claw leverages open system standards and protocols to enable maximum interoperability for the widest distribution, and enables a common operations & intelligence picture providing situational understanding to crews and data consumers.
Claw deployment and integration experience is unmatched with deployed experience on hundreds of manned and unmanned platforms in many configurations domestically and internationally. Claw has been deployed to every continent and has amassed millions of hours of operational use. Claw has been integrated with more than 50 payloads including Full-Motion Video Turrets (FMV), Synthetic Aperture Radars (SAR), Air-to-Air Radars, Wide Area Motion Imagers Hyperspectral Imagers (HSI), High Resolution Still Imagers (HRI), Radios, Datalinks, and Electronic Warfare (EW) systems. Leading the industry in experience and reliability.
The combination of Claw's modular design, open standards approach, deployed experience, sensor integration experience, and built-in automation enables rapid new integrations and upgrade cycles to meet our customers' need to meet ever-changing mission requirements.
Features/Benefits:
Intuitive Sensor Control

Control and cross-cue multiple payloads from one workstation
Map based Point-&-Click sensor control
Automated sensor mission planning for pre-planned & ad-hoc collections

Enables Whole Crew communication

Map-Draw feature
IRC Chat
Link-16 J-Chat
Map Based Sensor Data Display and Common Operations Picture
Pilot Guidance Display

Receives, stores, and displays multiple sensor data streams simultaneously
Automated Production, Exploitation, & Dissemination (PED) tools

Automated Product & Report Generation
Automated Lifejacket Detection and Moving Object Detection at High Sea-States
Land Based Moving Video Moving Target indicator
Automated Change Detection Tools

3D Moving Map enables

precision map based calculations
overlaid sensor data visualization
3D Data projection and visualization
Map based data correlation

Complies with numerous open standards interfaces:

STANAGS 4609, 4676, 4545, 4559, etc.
OGC Standard Shapefiles, KML/ KMZ, DRW files
CGARS Standard (Killbox/ Keypads)
Air Tasking Order (ATO)/ Air Control Order (ACO) USMTF import
Supports Link-16 JREAP messages
Cursor-on-Target CoT

Video Decoding and Transcoding
Enables Payload control through low cost COTS USB devices
Windows 10 (64-bit) compatible; runs on COTS equipment
Scalable to fit any architecture
Rapid integration of new payloads and features