Certifiable Ground Control Station (CGCS)
Type-certifiable for National and International RPA Operations
GA-ASI's Certifiable Ground Control Station (CGCS) was designed for use with Remotely Piloted Aircraft Systems (RPAS), specifically the MQ-9B SkyGuardian/SeaGuardian – the world's first RPA designed and built to fly in non-segregated airspace. Its architecture provides separation between flight and mission critical functions. Flight critical functions are performed using off-the-shelf avionics and flight computers running GA-ASI's certifiable Design Assurance Level software. The CGCS features a Pro Line Fusion® integrated avionics system from Collins Aerospace, the Abaco FORCE2C flight computer, as well as all the sensor and additional payload control for MQ-9B.
Its Common Operational Picture (COP) and improved display technology offer significantly improved situational awareness and reduced pilot workload. Its intuitive interfaces enhance the decision-making process by helping the pilot identify potentially hazardous situations more quickly and easily. In 2019, the CGCS successfully completed its first end-to-end flight with MQ-9B.
The CGCS may be retrofitted into existing U.S. Air Force, U.S. Department of Homeland Security, Royal Air Force, Italian Air Force, French Air Force, and NASA fixed-site facilities and fielded mobile GCS shelters.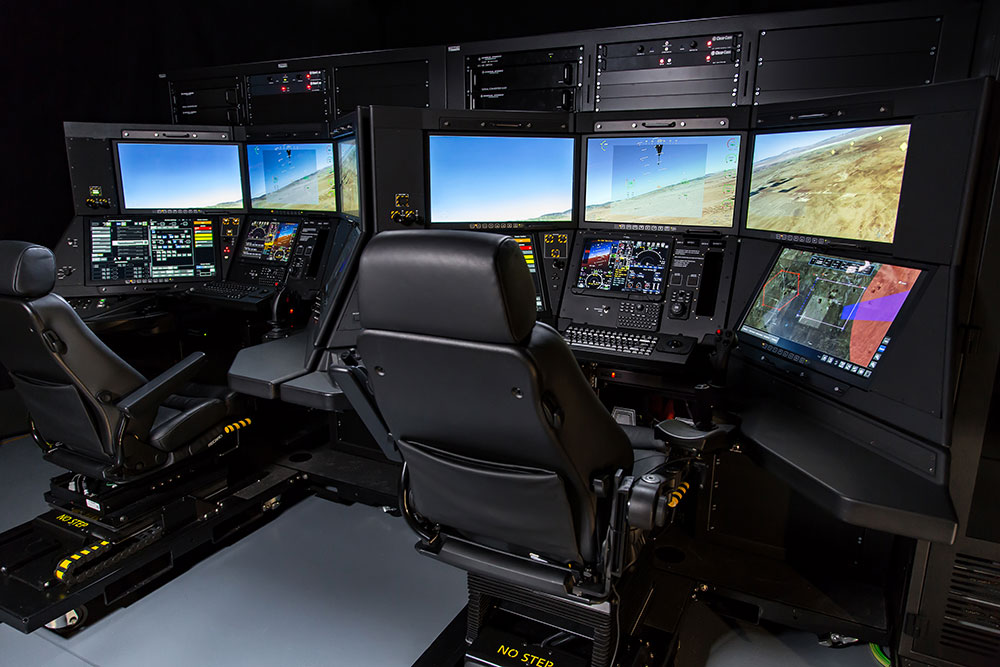 Features/Benefits:
Launch & Recovery Element (LRE)
Mission Control Element (MCE)
Dual Redundant PSO Stations
Supports Manual Pilot-in-the-Loop to Fully Automated Operations
Separation of Flight and Mission Critical Functions
Certifiable Flight computer
MIL-STD-1472 and other Human Factors Standards
Certification basis: STANAG-4671/DEF STAN 00-970
Pilot/Sensor Operator (PSO) Station
Certifiable Adaptive Flight Display
High-definition (1080p) touch-screen displays (five 24")
F-35/F-16 inspired Hands on Throttle and Stick (HOTAS)
Supports high-definition video
Electronic Checklists
Navigation Charts
Synthetic Video Augmentation
Payload Imagery Display
Tactical Situation Display
Integrated Comms System
User Centered HMI Design
External Interfaces
Flight Planning
Mission Planning & Management
Common Operating Picture
Data Dissemination & Analysis
Communications
Network Connectivity
Data Links
NATO Interface Compatibility