Team SkyGuardian
CANADA'S REMOTELY PILOTED AIRCRAFT SYSTEM (RPAS) SOLUTION
PROVEN
Team SkyGuardian leverages the power of the MQ-9 platform that has supported Five Eyes (FVEY) and NATO missions for more than a decade. MQ-9 stems from the powerful Predator family of systems with close to eight million flight hours – 90% of them in combat environments – making this series of RPA the undisputed industry leader in its class. MQ-9 is the platform of choice for key allies, including the U.S., Italy, the Netherlands, France, Poland, UK, Spain, and Belgium. Its next-generation sibling, the MQ-9B SkyGuardian®, likewise has a global presence as it has been acquired by the UK Royal Air Force and the Government of Belgium and is currently serving India and Japan through Company-Owned/Company-Operated operations for Intelligence, Surveillance, and Reconnaissance (ISR) missions in support of maritime law enforcement, national security, and search and rescue.
CAPABLE
Canada's vast territory and complex terrains, including in the Arctic, require a cost-effective multi-mission RPA solution that can endure long periods on station, withstand harsh weather environments, and safely operate in civil airspace. MQ-9B SkyGuardian delivers those critical capabilities and more.
CANADIAN
Team SkyGuardian brings together Canada's best in business and technology to serve its people, the Canadian Armed Forces, and the numerous industries that support them.
Our commitment to Canada is strong. Together, we are securing the future... we're here to stay and lead the world.
Our Canadian Team
Enduring Partnerships — Ensuring Long-Term Growth for Canada
70+ Years
Leading Aviation
Expertise
30+ Years
Cutting-Edge RPA
Design & Manufacturing
2,000+ Businesses
A Growing Industrial
Network of Canadian Partners
Covering Canada – Coast to Coast to Coast
2,000+ Canadian contractors and suppliers across Canada are working with Team SkyGuardian teammates every day– and we're growing fast.
Canadian Involvement
Canadian industry across aerospace, space, and unmanned systems have come together to solve tomorrow's RPAS solutions, today.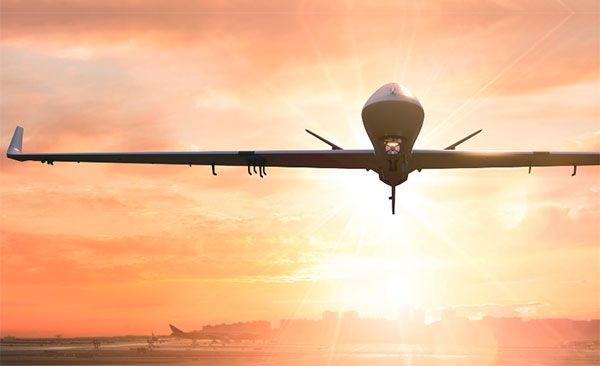 Autonomous Technologies

RPAS onboard automation and flexible-based technologies, including Automatic Takeoff and Landing Control (ATLC), autonomous taxi via SATCOM, automated aircraft start and shutdown, and more.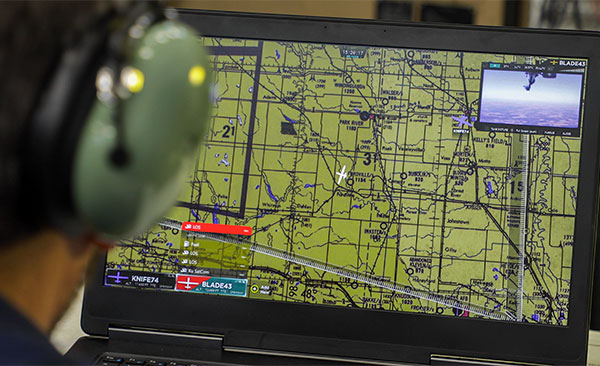 Training/Simulation – CAE Inc.

Mission readiness through advanced training solutions, such as courseware, computer-based and classroom-based training, training centers, and integrated learning management systems.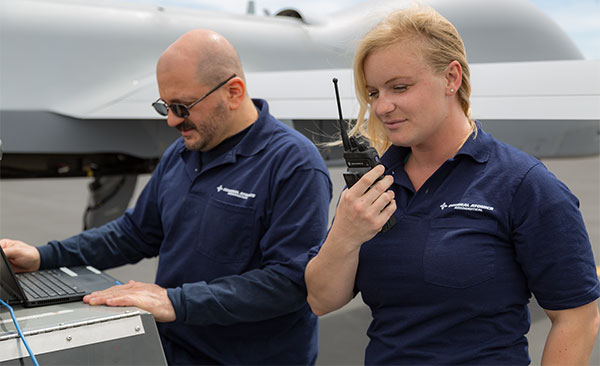 In-Service Support – CAE Inc.

Comprehensive maintenance and support services to help ensure customer training devices are available and maintain reliability and durability during operational missions.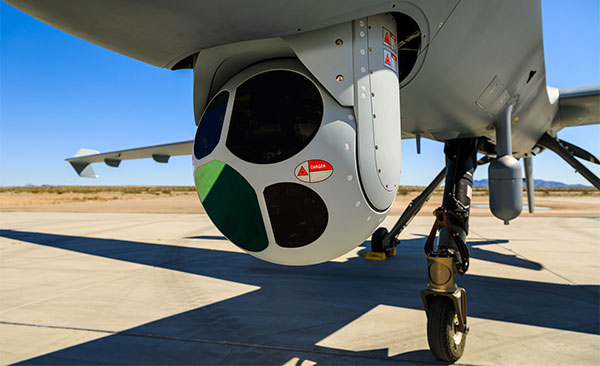 EO/IR Systems – L3Harris Technologies

Electro-optical/infrared imaging systems for high-altitude, long-range persistent surveillance and reconnaissance.

Canadian Sovereignty & Security
Technologies brought on by Canadian industry ensure regional sustainment and in-service support of RPAS systems.

Global Export Opportunities
Significant global export opportunities on more than 400 deployed MQ-9 series aircraft.

Diverse Expertise
Small to large-sized, indigenous and diverse-owned companies, as well as underrepresented groups in the Canadian workforce bring novel perspectives and key expertise to RPA innovation.

Defining the Future of RPAS
We're catalyzing technological breakthroughs from AI, machine-to-machine learning, and automation to RPAS in non-segregated airspace.

We're always looking to add new capabilities to the team. If you'd like to learn more about Team SkyGuardian and get involved, please click the button below.
Empowering a skilled workforce to anticipate the evolving needs of the RPAS industry.
Engineering
Research & Development
Manufacturing
Program Management
Aircraft & Avionics Mechanics
Flight Training Instructors
MQ-9B SKYGUARDIAN®
Industry-Leading Endurance

40+ hours of endurance
Detect-and-Avoid System

First-ever Detect and Avoid system for RPAS to safely operate in non-segregated airspace.

All-Weather Design

Ice protection system that allows for operations in adverse weather conditions.
The Multi-Mission Solution

MQ-9B SkyGuardian® is a proven state-of-the-art RPAS system ready to deliver world-class multi-domain awareness to Canada for a wide range of mission sets.

Search & Rescue
Humanitarian & Disaster Relief Assistance
Environmental Monitoring
Global Peacekeeping Operations
Military & Defence
Maritime Surveillance
Interoperability Requirements

MQ-9B SkyGuardian® is exclusively interoperable with assets from Canada's closest allies, including NORAD, FVEY, and NATO. It seamlessly integrates with current and future Canadian Defence and civil air and ground assets.
Civil Airspace Integration

MQ-9B SkyGuardian® is the world's first RPAS with a certifiable design to fly in non-segregated airspace. MQ-9B is the result of a five-year company-funded program to deliver an RPAS that meets the stringent airworthiness requirements of NATO and various civil authorities. As part of the certification effort, MQ-9B is provisioned with a GA-ASI-developed Detect and Avoid (DAA) system. The DAA system consists of a Due Regard Radar (air-to-air radar) coupled with a Traffic Alert and Collision Avoidance System (TCAS II) and Automatic Dependent Surveillance-Broadcast (ADS-B).
News & Media