Predator Mission Aircrew Training System (PMATS)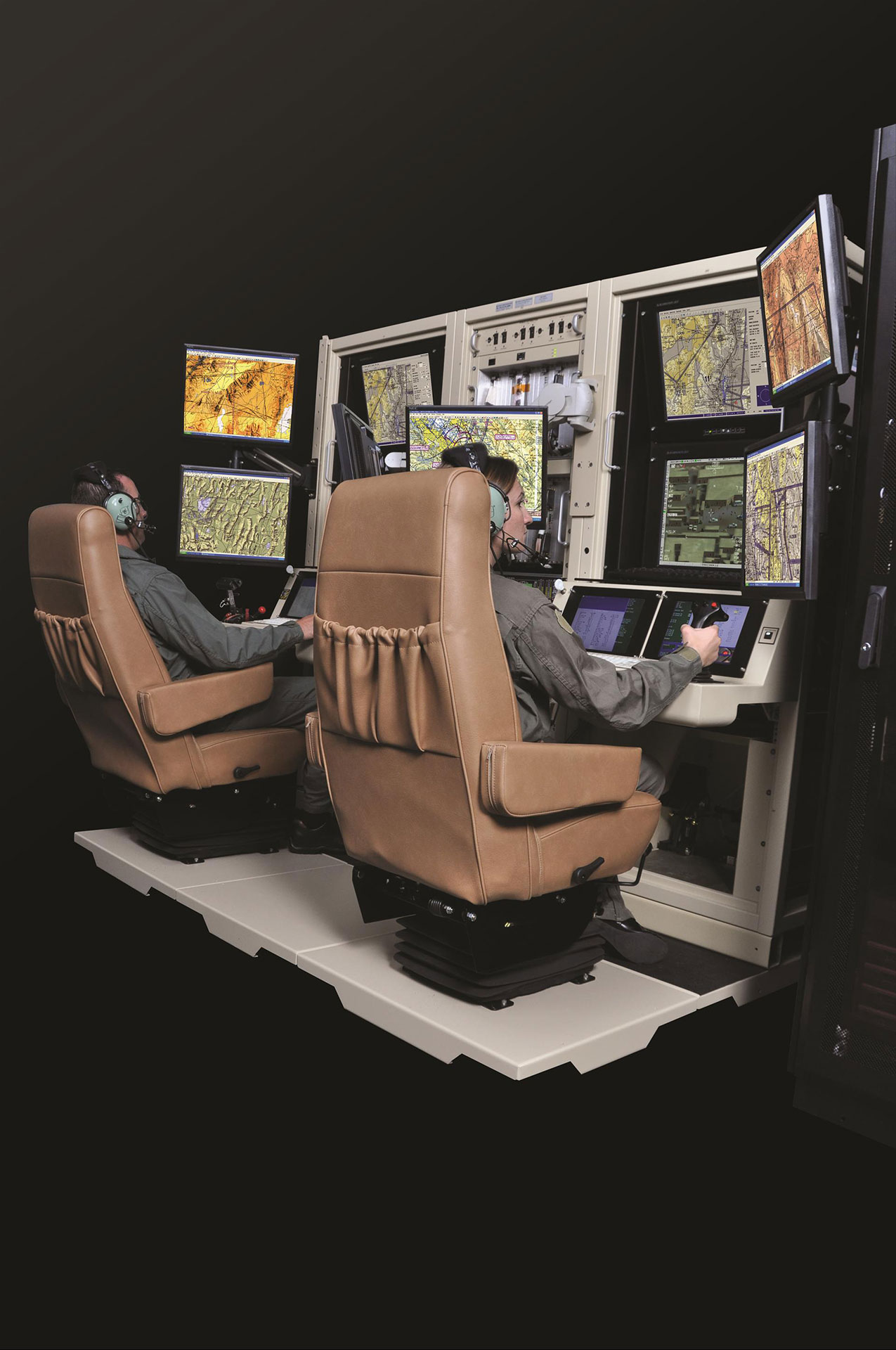 The Predator® Mission Aircrew Training System (PMATS) is a highly sophisticated flight simulator that accurately reproduces MQ-1 Predator and Predator B/MQ-9 Reaper® pilot and sensor operator aircrew stations, allowing students to master the art of flying and operating these two GA-ASI Remotely Piloted Aircraft (RPA) using actual flight hardware. With PMATS, the level of realism between simulated exercises and real-world operations is virtually transparent. The system is currently fielded by the U.S. Air Force.
PMATS consists of a form, fit, and function user interface for the pilot and sensor operator stations utilizing GA-ASI's Ground Control Station (GCS) hardware. This hardware is integrated with the L3 training system hardware and software to produce a high-fidelity training solution that models GA-ASI RPA systems, sensors, and weapons.
Robust environmental simulations support both initial qualification and mission training, including emergency and abnormal procedures training. PMATS is integrated with instructional systems, including an Instructor Operator Station (IOS) that supports numerous instructional requirements such as crew training, monitoring, and evaluation. The system provides training in stand-alone mode (featuring one player) and Local Area Network (LAN) mode (connecting various players within the same building or vicinity). PMATS also has been designed to participate in a distributed environment via the U.S. Air Force's Distributed Mission Operations (DMO) portal, enabling Predator/Reaper air crews to conduct collaborative mission-level training with other DMO-compliant platforms.
PMATS is available in three configurations: a dedicated training-only version, an appended version that uses an operational GCS that is switchable between training and flight-operation modes, and a PMATS Lite version that uses COTS hardware to provide a lower-cost but still high-fidelity, dedicated training solution. All three configurations utilize actual Predator/Reaper hardware and software and L3's Blue Box High-definition (BBHD) training environment.
Features/Benefits:
Uses high-fidelity flight hardware and simulation and training software to provide realistic Predator/Reaper aircrew training.
Accurately simulates Predator/Reaper sensors and weapons.
Simulates real-world environmental flight conditions: wind shear, slope winds, low visibility, icing, thermal variations, and challenging runway conditions.
Simulates key mission support functions: mission planning, mission monitoring, Synthetic Aperture Radar (SAR) control and display, data exploitation, and more.
Accurately models GCS-to-aircraft data link communications in over-the-horizon missions.
Supports initial qualification training, mission qualification training, continuous training, and operational mission rehearsal.
Includes an Instructor Operator Station (IOS) with brief/debrief capabilities
Supports simulation-based distributed training to help warfighters better prepare for future coordinated missions.