Lynx Multi-Mode Radar
Surveillance, Tracking, Targeting for Manned and Unmanned Missions
GA-ASI's Lynx Multi-Mode Radar is a high-performance system that provides high-resolution, photographic-quality imagery that can be captured through clouds, rain, dust, smoke and fog. Designed to meet the onboard challenges of the Remotely Piloted Aircraft (RPA) systems environment, the Lynx radar consumes minimal Size, Weight, and Power (SWAP) while delivering precision air-to-surface targeting accuracy and superb wide-area search capabilities for both ground and maritime missions.
Lynx features its Synthetic Aperture Radar (SAR), Ground/Dismount Moving Target Indicator (GMTI/DMTI), and robust Maritime Wide Area Search (MWAS) modes. Lynx's search modes provide the wide-area coverage for any integrated sensor suite, allowing for cross-cue to a narrow Field-of-View (FOV) Electro-optical/Infrared (EO/IR) sensor.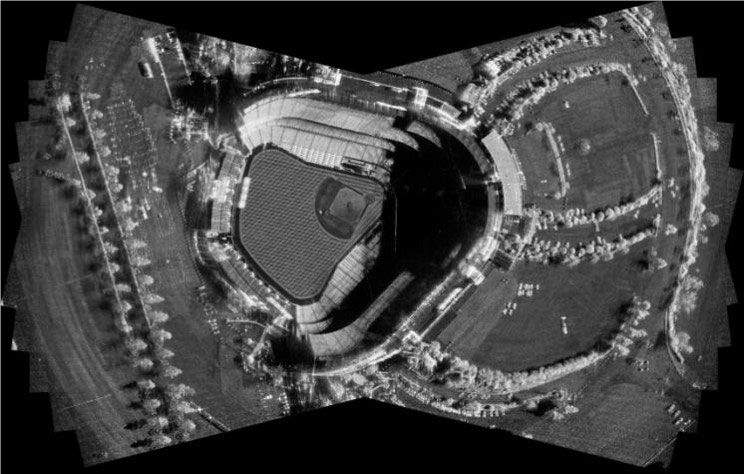 Synthetic Aperture Radar
Lynx includes two spotlight and two stripmap SAR modes. Spotlight mode produces high-resolution imagery on a defined point. Stripmap mode mosaics multiple spot SAR images together to form one large image. Using SAR imagery, subtle changes in the scene are detected by overlaying two images taken at different times. Amplitude Change Detection (ACD), and Automated Man Made Object Detection (AMMOD) algorithms rapidly highlight the differences between the first and second SAR image, providing an excellent imagery analysis tool.
Ground/Dismount Moving Target Indicator
The GMTI mode provides a quick and easy method for locating moving vehicles. While the GMTI mode continues to be a crucial resource, DMTI marks a real paradigm shift. DMTI allows operators to detect very slow moving vehicles and personnel (dismounts) moving at about 1 mph. Integrated into USAF MQ-9 Reaper® RPA, the DMTI mode allows operators to detect slow-moving, operationally significant personnel or vehicles. In addition, operators can select a GMTI/DMTI target and automatically cross-cue to the EO/IR sensor in narrow FOV for visual identification of the target.
Maritime Wide Area Search
Lynx's MWAS mode detects ship and boat traffic in various sea state conditions; it also integrates Automated Identification System (AIS) information for target correlation and identification. MWAS excels in such missions as coastal surveillance, drug interdiction, long-range surveillance, small target detection, and search and rescue operations. In the summer of 2014, MWAS was demonstrated for the U.S. Navy during Experiment Trident Warrior where it successfully executed numerous littoral missions, demonstrating its ability to detect surface vessels in various weather conditions and cross-cue to EO/IR sensors for target classification and identification.
The Lynx Multi-mode Radar continues to be deployed on RPA and manned aircraft throughout the world. The radar is used by the U.S. Air Force, Royal Air Force, Italian Air Force, and the French Air Force on their MQ-9/Reaper RPA. Lynx also has been deployed by the U.S. Army aboard its Sky Warrior® Alpha and Gray Eagle Unmanned Aircraft System (UAS), as well as on a variety of manned aircraft including the C-12, U-21, and DH-7. Additionally, Lynx is used by the Iraqi Air Force aboard its Peace Dragon manned Intelligence, Surveillance, and Reconnaissance (ISR) aircraft.
Features/Benefits:
SAR (Synthetic Aperture Radar with CAT 1 Targeting, Change Detection and Automated Object Detection)
Moving Target Indicator (MTI) SAR with Moving Target Tracking
Ground and Dismount Moving Target Indicator (GMTI/DMTI)
Maritime Wide Area Search (MWAS)
Inverse Synthetic Aperture Radar (ISAR)
Target Tracking for VSAR, GMTI, DMTI, MWAS and ISAR
Target Recognition/Classification
Standardized Data Formats for Dissemination and Exploitation
Intuitive Human Machine Interface tailored for Remotely Piloted Aircraft
Long-range, up to 80 km
High Reliability, Enclosed Chassis
Low Weight and Volume
Real-time Detection of Vehicular Movement
Automatic Cross-cue to EO/IR
Available as a Commercial-Off-The-Shelf (COTS) Sensor
Designed for use in RPA Systems and Manned aircraft