THE NEXT GENERATION OF REMOTELY PILOTED AIRCRAFT
GA-ASI is deeply committed to the United Kingdom, the British Armed Forces, and all of the industries that support them.
For more than a decade, the UK Royal Air Force's (RAF's) Reaper (MQ-9A) has capably supported operations around the world. Now, the RAF will be the first force to operate the latest in multi-domain Remotely Piloted Aircraft Systems (RPAS): the Protector RG Mk1 (MQ-9B).
Protector is set to enter service in 2024.
Our Team
The Protector program is supported by the best in British aerospace and defense.
100+
Years of UK Aviation Expertise
£400M+
Reinvested in UK Industry
200+
UK Companies in Supply Chain
Protector RG MK1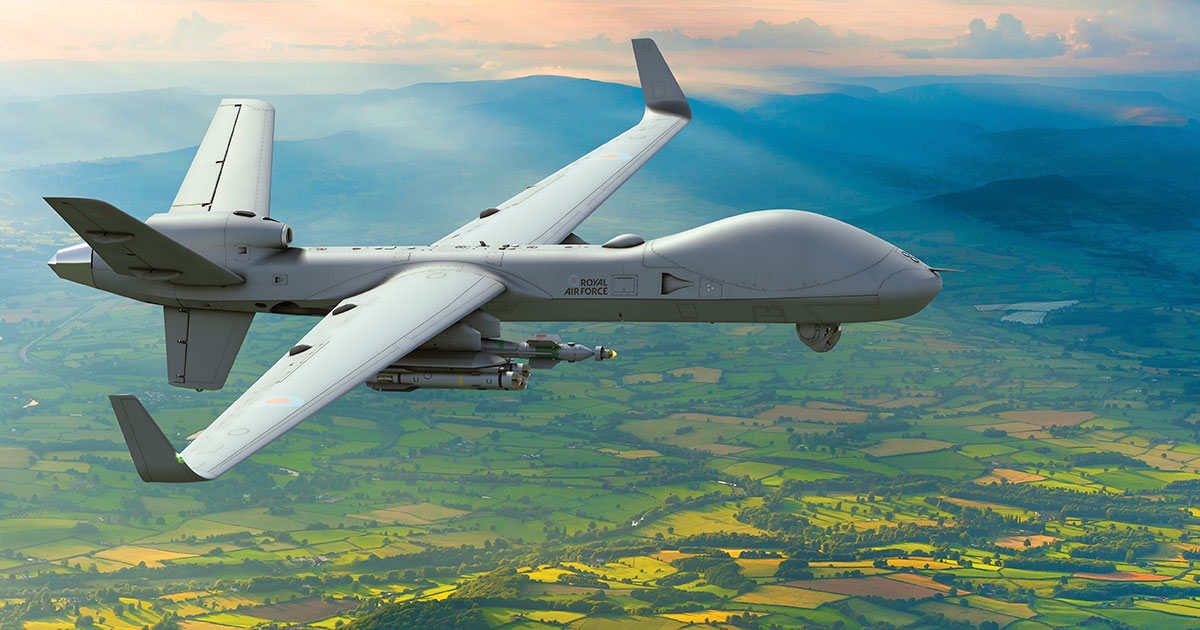 Based on the revolutionary MQ-9B SkyGuardian®, Protector RG Mk1 is the next generation of RPAS, delivering persistent Intelligence, Surveillance, Target Acquisition, and Reconnaissance (ISTAR) around the globe. Protector is designed to fly via SATCOM for up to 40 hours in all types of weather and safely integrate into civil airspace, enabling joint forces and civil authorities to deliver real-time situational awareness anywhere in the world—day or night. The aircraft is outfitted with the revolutionary Lynx® Multi-mode Radar, an advanced electro-optical/infrared sensor, and automatic takeoff and landing, and features a longer wingspan than its predecessors at 79 feet (24m). However, Protector goes beyond sustaining industry-leading endurance and collecting real-time intelligence. It seamlessly integrates with user operational environments and equipment while expanding the missions of RPAS in support of the Armed Forces and civil authorities.
Protector can be configured to conduct a variety of ISTAR operations, including but not limited to:
Humanitarian Assistance/Disaster Relief
Search and Rescue
Law Enforcement
Border Enforcement
Defensive Counter Air
Airborne Early Warning
Electronic Warfare
Long-Range Strategic ISTAR
Anti-Surface Warfare (Maritime Role-Fit)
Anti-Submarine Warfare (Maritime Role-Fit)
Protector is designed from the ground up to not only meet NATO and UK standards (STANAG 4671 & DEFSTAN 00-970) but also to comply with civil airspace requirements in the U.S. and around the world. When fitted with GA-ASI's first-of-its-kind Detect and Avoid System, Protector will seamlessly integrate with normal air traffic just like other commercial aircraft. Protector's remote flight station gives operators a similar, if not better, air traffic picture than the cockpit of human-crewed aircraft. For many years, GA-ASI and UK industry have been working very closely with the UK Civil Aviation Authority to approve Protector for flight in civil airspace.
News & Media