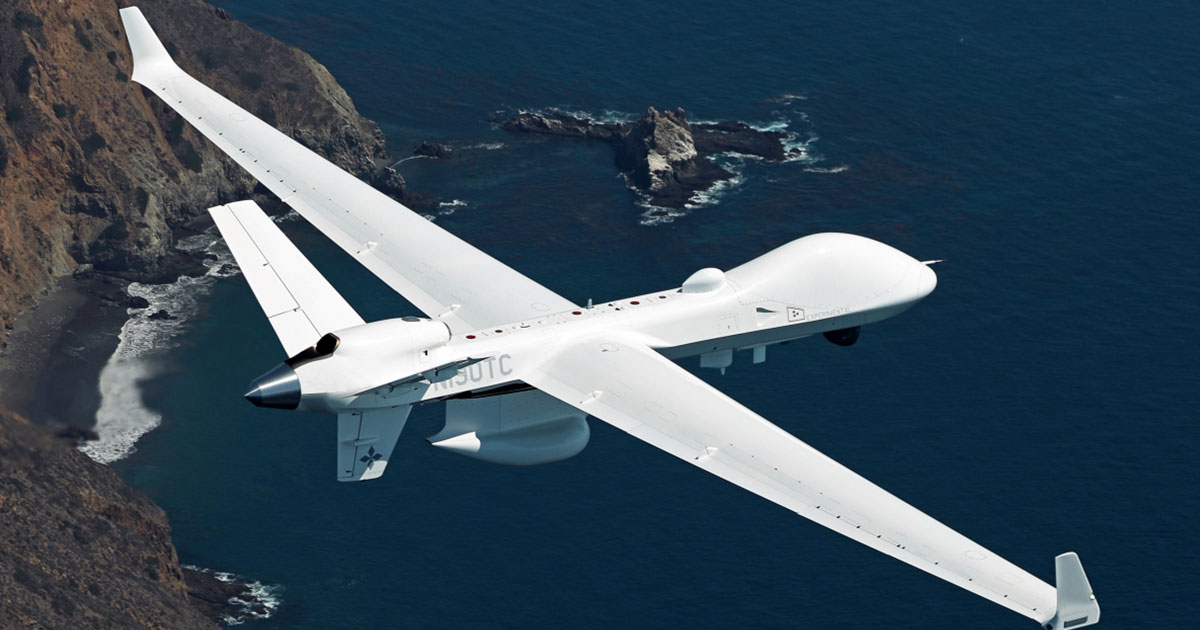 MQ-9B SeaGuardian Featured in US Navy Group Sail Exercise
SAN DIEGO – 25 April 2023 – The U.S. Navy's Group Sail Exercise, held over a six-day period in Hawaiian military operating areas, featured one of the world's most advanced Unmanned Aircraft Systems (UAS) — the MQ-9B SeaGuardian® supplied by General Atomics Aeronautical Systems, Inc. (GA-ASI). SeaGuardian conducted Maritime Intelligence, Surveillance and Reconnaissance (MISR), Anti-Submarine Warfare (ASW), Long Range Fires, and simulated Battle Damage Assessment as part of Group Sail, which supported Carrier Strike Groups FIFTEEN and ONE.
During the exercise, which ran April 12-17, 2023, SeaGuardian integrated with U.S. Navy ships (carriers, cruisers, and destroyers) and aircraft (F-35C, F/A-18, EA-18G, E-2D, MH-60, and P-8) to support various naval missions that included Maritime Domain Awareness, Surface Warfare, Information Warfare, and numerous time-sensitive targeting objectives and simulated Battle Damage Assessments.
"We were thrilled that the U.S. Navy requested SeaGuardian be part of the Group Sail training event," said GA-ASI President David R. Alexander. "We know the many successes of SeaGuardian during the USN's RIMPAC 2022 exercise was a big reason the SeaGuardian was invited back to Hawaii to support Group Sail."
In addition to its contributions during Group Sail, the SeaGuardian self-deployed from GA-ASI's Desert Horizon flight operations facility in El Mirage, Calif., to Marine Corps Base Hawaii, covering over 2,500 nautical miles in a single flight and demonstrating SeaGuardian's unrivalled expeditionary attributes. The aircraft self-deployed back to El Mirage following the exercise.
About GA-ASI
General Atomics Aeronautical Systems, Inc. (GA-ASI), an affiliate of General Atomics, is a leading designer and manufacturer of proven, reliable remotely piloted aircraft (RPA) systems, radars, and electro-optic and related mission systems, including the Predator® RPA series and the Lynx® Multi-mode Radar. With more than seven million flight hours, GA-ASI provides long-endurance, mission-capable aircraft with integrated sensor and data link systems required to deliver persistent flight that enables situational awareness and rapid strike. The company also produces a variety of ground control stations and sensor control/image analysis software, offers pilot training and support services, and develops meta-material antennas. For more information, visit www.ga-asi.com


Avenger, Lynx, Predator, SeaGuardian, and SkyGuardian are registered trademarks of General Atomics Aeronautical Systems, Inc.