GA-ASI SkyGuardian Completes First Trans-Atlantic Flight of a MALE RPA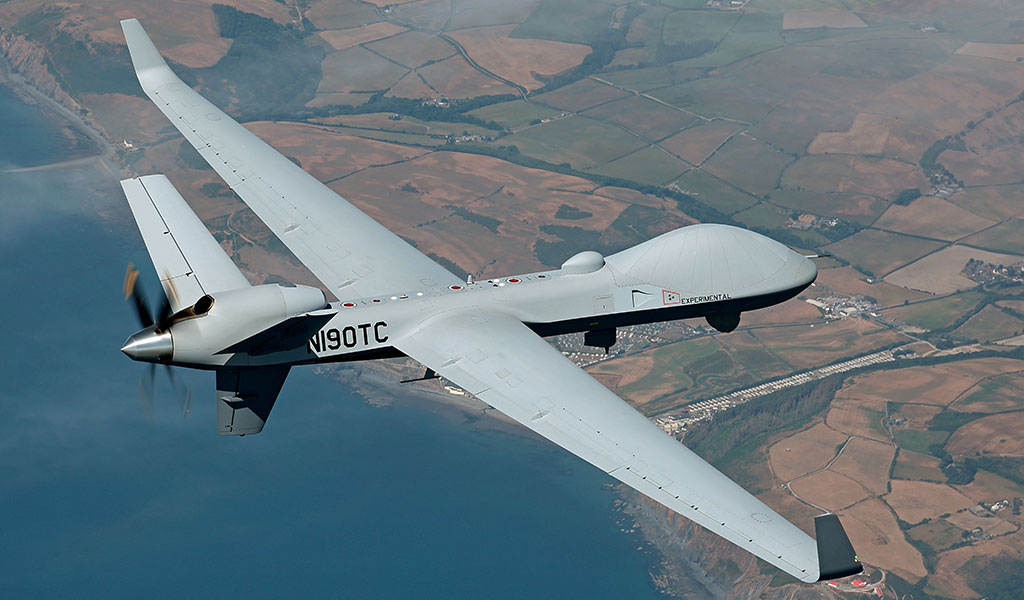 GLOUCESTERSHIRE – 11 July 2018 – Today at 6:51 p.m. (GMT+1) a Medium-altitude, Long-endurance (MALE) Remotely Piloted Aircraft (RPA) produced by General Atomics Aeronautical Systems, Inc. (GA-ASI) made history as it landed at the Royal Air Force (RAF) Fairford in Gloucestershire, UK and became the first MALE RPA to successfully complete a trans-Atlantic flight. The GA-ASI-owned MQ-9B SkyGuardian took off from Grand Forks, North Dakota, USA on July 10th at 12:48 p.m. CDT. The flight covered 3,760 nautical mile flight in 24 hours 2 minutes.
"This historic event was a demonstration of the endurance and civil airspace capability of the MQ-9B SkyGuardian, and it is fitting to do this as part of the centennial celebration of the RAF," said Linden Blue, CEO, GA-ASI. "The successful flight of the MQ-9B is the culmination of the hard work and innovation of our dedicated employees, and the strong relationships that we enjoy with the RAF, the UK Civil Aviation Authority (CAA), the Royal International Air Tattoo (RIAT) and our UK industry partners such as Cobham."
RAF Fairford will be the site of the RIAT airshow from 13 - 15 July. The MQ-9B will be on static display during the show.
Over the past 10 years, the RAF has operated GA-ASI's MQ-9 Reaper® RPA in support of the NATO and Coalition operations. The RAF is celebrating its 100-year anniversary (RAF100), so GA-ASI seized the opportunity to fly the newest MQ-9 version, MQ-9B to RIAT. The RAF configuration of MQ-9B will be called PROTECTOR RG Mk1.
MQ-9B is the next generation of GA-ASI's multi-mission Predator® B fleet. GA-ASI named its baseline MQ-9B aircraft SkyGuardian, and the maritime surveillance variant SeaGuardian. MQ-9B is a "type-certifiable" (STANAG 4671-compliant) version of the MQ-9 Predator B product line. Its development is the result of a five-year, company-funded effort to deliver a RPA that can meet the stringent airworthiness type-certification requirements of various military and civil authorities, including the UK Military Airworthiness Authority (MAA) and the U.S. FAA. Type-certification, together with an extensively tested collision avoidance system, will allow unrestricted operations in all classes of civil airspace.
Paul Armstrong, Senior Vice President of Cobham Aviation Services UK, said: "The SkyGuardian trans-Atlantic flight is a significant and exciting event for both GA-ASI and for the future capability of the RAF. Cobham is proud to have a teaming agreement with GA-ASI for logistics and maintenance services, which builds on our present support of the Reaper Ground Control Stations. We look forward to working with both GA-ASI and the RAF as the PROTECTOR RG Mk1 comes into service."
High-resolution photos of MQ-9B SkyGuardian are available to qualified media outlets from the listed GA-ASI media contact. For more information on the trans-Atlantic flight, go to http://www.ga-asi.com/trans-atlantic-flight.
About GA-ASI
General Atomics Aeronautical Systems, Inc. (GA-ASI), an affiliate of General Atomics, is the leading designer and manufacturer of proven, reliable Remotely Piloted Aircraft (RPA) systems, radars, and electro-optic and related mission systems, including the Predator® RPA series and the Lynx® Multi-mode Radar. With more than five million flight hours, GA-ASI provides long-endurance, mission-capable aircraft with integrated sensor and data link systems required to deliver persistent flight that enables situational awareness and rapid strike. The company also produces a variety of ground control stations and sensor control/image analysis software, offers pilot training and support services, and develops meta-material antennas. For more information, visit www.ga-asi.com.
Predator, Reaper, and Lynx are registered trademarks of General Atomics Aeronautical Systems, Inc.
For more information contact:
Melissa Haynes
General Atomics Aeronautical Systems, Inc.
+1 (858) 524-8108
ASI-MediaRelations@ga-asi.com