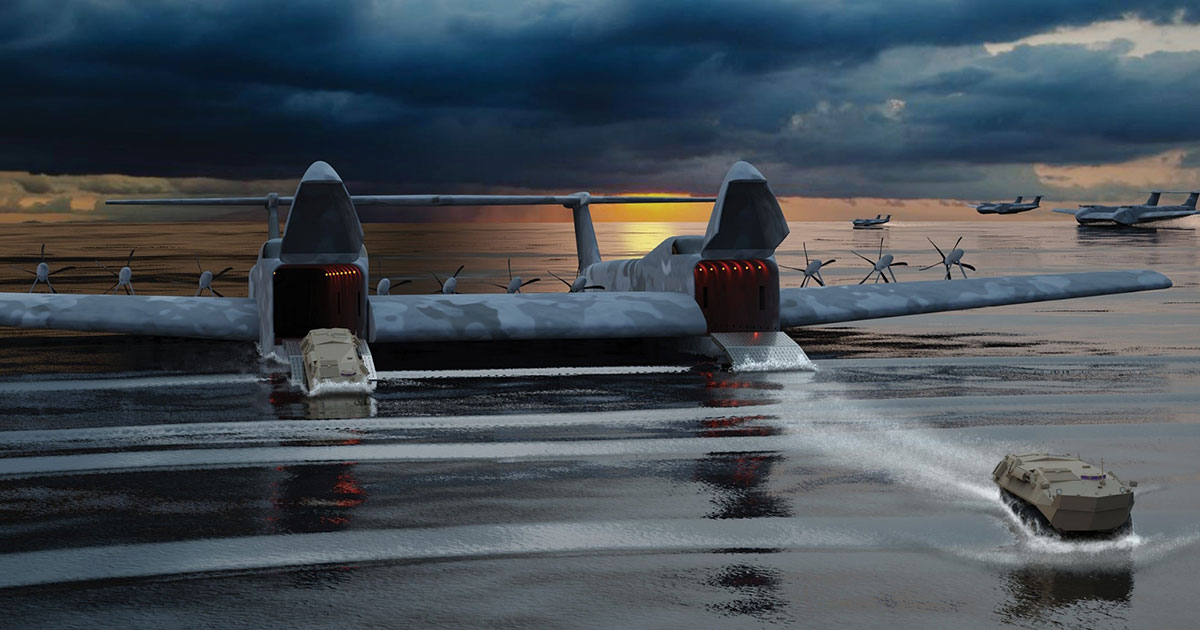 GA-ASI Selected by DARPA to Support Liberty Lifter Program
SAN DIEGO – 01 February 2023 – General Atomics Aeronautical Systems (GA-ASI) was awarded a contract from the Defense Advanced Research Projects Agency (DARPA) for the development of an aircraft capable of sustained seaborne strategic and tactical lift. The U.S. Defense Department announced on Nov. 25, 2022, that the $8 million cost-plus-fixed-fee contract award is in support of DARPA's Liberty Lifter program.
The program's focus is on designing, building, and testing a seaplane that can operate efficiently at less than 100 feet above the ground, hold flight altitudes of up to 10,000 feet mean sea level and transport huge payloads at speeds faster than current sea lift platforms, while shifting the paradigm of strategic lift to a cost per ton instead of cost per pound approach.
"GA-ASI is committed to the advancement of a cargo seaplane design capable of delivering heavy cargo and utilizing Wing-in-Ground effect to revolutionize transport to support tomorrow's warfighter," said GA-ASI President David R. Alexander. "Our experience in maritime aircraft such as the MQ-9B SkyGuardian and SeaGuardian will help advance the capabilities of the Liberty Lifter concept and expand our cargo aircraft portfolio."
GA-ASI and Maritime Applied Physics Corporation (MAPC) partnered on this project to provide DARPA with superior air and sea-based craft design experience.
The award covers the next six months as the base effort, and if the option is exercised, GA-ASI will spend the following 12 months maturing and completing the design and preparing for manufacturing with the award potentially growing to a total of $29 million.
About GA-ASI
General Atomics-Aeronautical Systems, Inc. (GA-ASI), an affiliate of General Atomics, is a leading designer and manufacturer of proven, reliable remotely piloted aircraft (RPA) systems, radars, and electro-optic and related mission systems, including the Predator® RPA series and the Lynx® Multi-mode Radar. With more than seven million flight hours, GA-ASI provides long-endurance, mission-capable aircraft with integrated sensor and data link systems required to deliver persistent flight that enables situational awareness and rapid strike. The company also produces a variety of ground control stations and sensor control/image analysis software, offers pilot training and support services, and develops meta-material antennas. For more information, visit www.ga-asi.com


Avenger, Lynx, Predator, SeaGuardian and SkyGuardian are registered trademarks of General Atomics Aeronautical Systems, Inc.