GA-ASI's New SC2 Software Offers Massive Savings for Gray Eagle ER Teams
Reduces Emplacement, Mission Launch Time and Ground Segment Footprint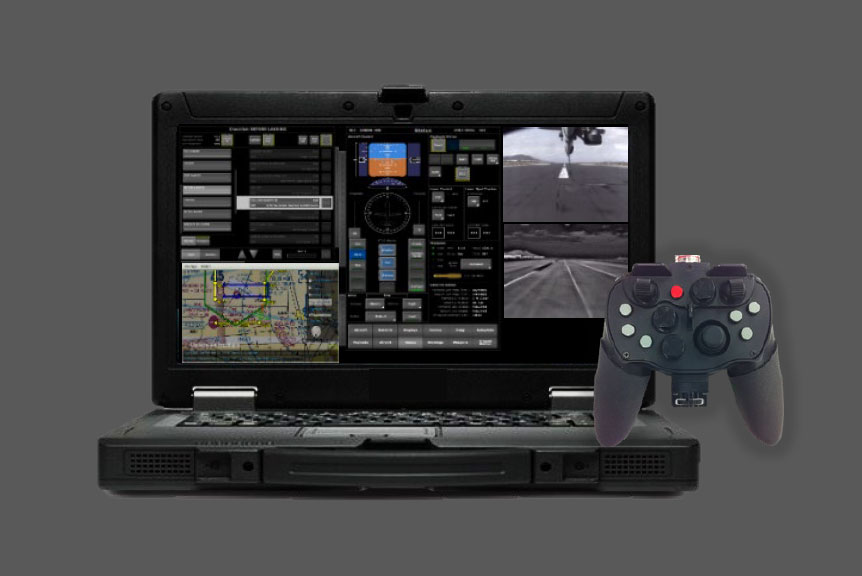 SAN DIEGO – 12 October 2020 – Massive reductions in emplacement, mission launch time and overall footprint size are in the works for Gray Eagle Extended Range (GE-ER) Unmanned Aircraft Systems (UAS), thanks to new laptop-based interface called Scalable Command & Control (SC2) from General Atomics Aeronautical Systems, Inc. (GA-ASI).
GA-ASI recently concluded a series of flight tests using the new SC2 interface hosted on the U.S. Government's Improved Portable Maintenance Aid (IPMA) that is fielded to all UAS units in the Army. This provides 100 percent of the functionalities of the Ground Control Station (GCS) shelter hosted on a laptop, greatly reducing the logistics burden of set-up, transporting and operating a Gray Eagle UAS. The effort was closely coordinated with GA-ASI's Government customer to fully control a company-owned Gray Eagle Extended Range (GE-ER) UAS including pre-flight, taxi, takeoff and landing.
The operation was later conducted using a Government-owned GE-ER to confirm functionality with the field GCS software. The SC2 software enables control of the GE-ER and its payloads, while also allowing aircraft, payloads and sensors to be controlled by disparate users replicating a ground maneuver force or other disadvantaged user. SC2 also efficiently controlled the onboard sensors and commanded release of various payloads from disparate manufacturers all integrated in less than 90 days.
"SC2 incorporated significant automation and cognitive workload reduction for GE-ER operators, allowing them to focus on mission tasks," said GA-ASI President David R. Alexander. "SC2's pre-flight automation reduces emplacement and mission launch timelines by 75 percent from the currently-fielded Ground Control Station (GCS)."
SC2 is a collection of standalone software applications that reduce operator workload through automated check lists and optimizes the operator steps for pre-flight, taxi, launch and recovery, health and status monitoring, sensor and payload control and maintenance of the Gray Eagle UAS. GA-ASI believes SC2's automation will allow enlisted operators to fully focus on the more difficult and operationally relevant mission tasks, leaving the more mundane tasks to the software with minimal man-in-the-loop tasks to meet the Army concept of "supervised autonomy."
SC2 leverages previous automation tools and government approved architectures to reduce overhead and integration and sustainment costs. SC2 software incorporates GE-ER-specific capabilities needed for conducting everything from simple maintenance checks to full mission operations and flight testing. General Atomics is working closely with the Army to ensure SC2's open architecture is aligned with the Army's plans for Scalable Control Interface (SCI).
Incorporating SC2 into the fielded GE-ER configuration will allow the Army to significantly reduce the logistical footprint of a GE-ER platoon and provide a true expeditionary capability to the Army while enabling flexibility in the conduct of Multi-Domain Operations (MDO), providing situational awareness, critical and timely long range targeting information and enabling future vertical lift aircraft to focus on their missions. The vision is that any laptop computer hosting the SC2 software with a datalink interface (line of sight or beyond line of sight) will be able to interface with the GE-ER aircraft and control onboard systems.
"This capability will eliminate over 100,000 pounds of Army vehicles in each GE-ER platoon, providing maximum flexibility to unit commanders on the MDO battlefield," said Alexander.
About GA-ASI
GA-ASI, an affiliate of General Atomics, is a leading designer and manufacturer of proven, reliable Remotely Piloted Aircraft (RPA) systems, radars, and electro-optic and related mission systems, including the Predator® RPA series and the Lynx® Multi-mode Radar. With more than six million flight hours, GA-ASI provides long-endurance, mission-capable aircraft with integrated sensor and data link systems required to deliver persistent flight that enables situational awareness and rapid strike. The company also produces a variety of ground control stations and sensor control/image analysis software, offers pilot training and support services, and develops meta-material antennas. For more information, visit www.ga-asi.com.
SkyGuardian, SeaGuardian, Predator and Lynx are registered trademarks of General Atomics Aeronautical Systems, Inc.
For more information contact:
GA-ASI Media Relations
General Atomics Aeronautical Systems, Inc.
+1 (858) 524-8108
ASI-MediaRelations@ga-asi.com