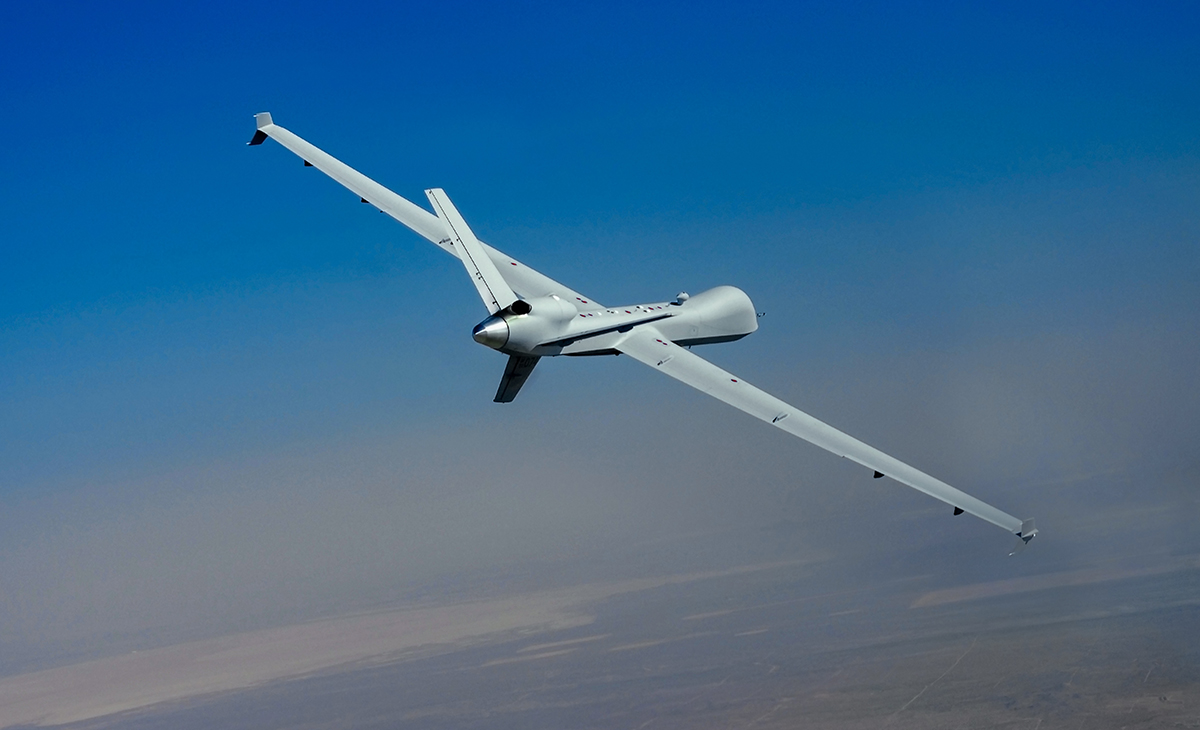 GA-ASI Further Expands MQ-9 Mission Capability
26th WPS Flies Reaper® Defense Electronic Support System; High-Def Recording Supports AI/ML Development
SAN DIEGO – 22 April 2021 – The U.S. Air Force, General Atomics Aeronautical Systems, Inc. (GA-ASI) and L3Harris Technologies have collaborated to further expand the mission capabilities of the U.S. Air Force's versatile MQ-9 Reaper® Remotely Piloted Aircraft (RPA). For the first time, crews from the Air Force's 26th Weapons Squadron (WPS) flew an MQ-9 equipped with the Reaper Defense Electronic Support System (RDESS). The flights were conducted in parallel with the Advanced Battle Management System (ABMS) demonstrations recently in Europe.
RDESS is a broad spectrum, passive Electronic Support Measure (ESM) payload designed to collect and geo-locate signals of interest from standoff ranges. With it, the Reaper becomes an even more versatile surveillance aircraft given its ability to conduct electronic sensing well enough to provide high quality intelligence but also keep safely away in friendly or international airspace. The flights were accomplished via remote split operations that allowed the 26th WPS to both fly the aircraft and control the RDESS payload from within the United States while the MQ-9 flew in Europe. Additionally, the aircraft flew with a high-capacity, solid-state digital recorder to collect Multi-Spectral Targeting pod data that will be used to further Artificial Intelligence (AI) and Machine Learning (ML) development.
"The MQ-9 continues to demonstrate its robust flexibility," said GA-ASI Vice President for DoD Strategic Development, J.R. Reid. "The ability to operate and disseminate information gathered from the advanced sensors carried aboard the MQ-9 is foundational to its role in the great power competition environment. Our efforts in AI and ML is further advancing the MQ-9's autonomous capabilities which will greatly enhance its mission resiliency during periods of contested electromagnetic spectrum operations."
About GA-ASI
General Atomics-Aeronautical Systems, Inc. (GA-ASI), an affiliate of General Atomics, is a leading designer and manufacturer of proven, reliable remotely piloted aircraft (RPA) systems, radars, and electro-optic and related mission systems, including the Predator® RPA series and the Lynx® Multi-mode Radar. With more than six million flight hours, GA-ASI provides long-endurance, mission-capable aircraft with integrated sensor and data link systems required to deliver persistent flight that enables situational awareness and rapid strike. The company also produces a variety of ground control stations and sensor control/image analysis software, offers pilot training and support services, and develops meta-material antennas. For more information, visit www.ga-asi.com.
Lynx, Predator, Reaper, SeaGuardian and SkyGuardian are registered trademarks of General Atomics Aeronautical Systems, Inc.
About L3Harris Technologies
L3Harris Technologies is an agile global aerospace and defense technology innovator, delivering end-to-end solutions that meet customers' mission-critical needs. The company provides advanced defense and commercial technologies across air, land, sea, space and cyber domains. L3Harris has approximately $18 billion in annual revenue and 48,000 employees, with customers in more than 100 countries. L3Harris.com.
For more information contact:
GA-ASI Media Relations
General Atomics Aeronautical Systems, Inc.
+1 (858) 524-8108
ASI-MediaRelations@ga-asi.com