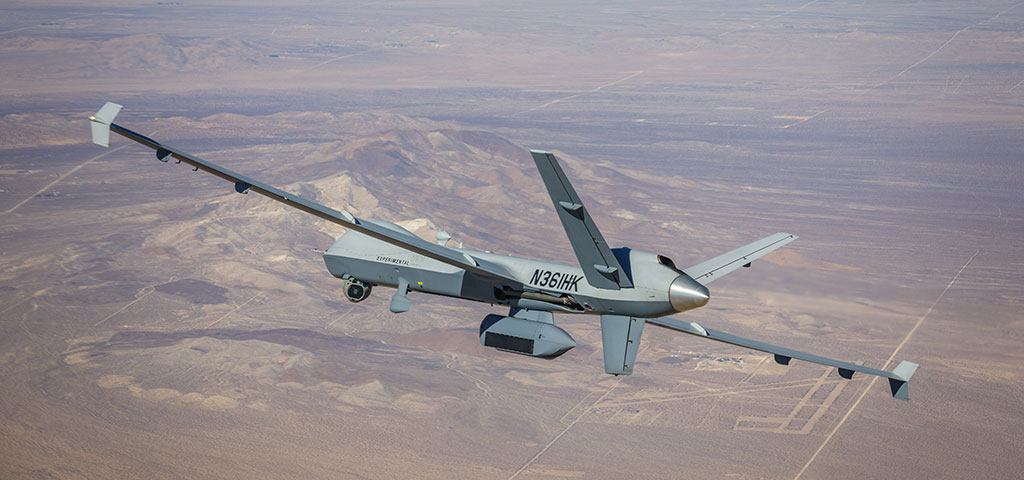 GA-ASI and Raytheon Deutschland Prove New Digital Sensor
SAN DIEGO – 11 February 2019 – General Atomics Aeronautical Systems, Inc. (GA-ASI), the leading manufacturer of Remotely Piloted Aircraft (RPA) systems, radars, electro-optic and related mission systems, and Raytheon Deutschland GmbH based in Freising, Germany, have successfully proven the performance of a recently developed Electronic Intelligence (ELINT) sensor called the Advanced Radar Detection System (ARDS). The payload was integrated in a wing-mounted pod and test-flown on an MQ-9 RPAS.
"We're excited to work with Raytheon Deutschland on this sovereign sensor capability," said Linden Blue, CEO, GA-ASI. "This system will provide high-performance ELINT capability to our European allies and potentially other global customers."
ARDS is a fully digital, high-precision radar-detection sensor that was developed by Raytheon Deutschland GmbH. ARDS is a platform-independent, follow-on development of the digital ELS (Emitter Location System) that is now operational on German Luftwaffe Tornado ECR's (Electronic Combat / Reconnaissance version).
During the flight tests, the system was deployed in a wing-pod configuration on a GA-ASI Medium-altitude, Long-endurance (MALE) MQ-9 Predator® B RPA, operating from their Gray Butte Flight Operations facility near Palmdale, California.
During flight testing against ground radar targets, the system verified its performance with regard to processing speed and geolocation precision.
In addition to sensor performance, the use of aircraft datalink and ground station elements were also successfully demonstrated. Precision direction-finding and identification of several civilian radars was demonstrated, with the resulting data downlinked in real-time to the aircraft's ground control station.
The flight testing was a jointly funded initiative of GA-ASI and Raytheon Deutschland. For GA-ASI this represents an expansion of sensor options and mission spectrum of its MQ-9 aircraft systems. For Raytheon Deutschland this effort was an important milestone towards the international marketing of ARDS, which was developed exclusively in Germany as a non-ITAR, "sovereign payload."
About GA-ASI
General Atomics Aeronautical Systems, Inc. (GA-ASI), an affiliate of General Atomics, is the leading designer and manufacturer of proven, reliable Remotely Piloted Aircraft (RPA) systems, radars, and electro-optic and related mission systems, including the Predator® RPA series and the Lynx® Multi-mode Radar. With more than five million flight hours, GA-ASI provides long-endurance, mission-capable aircraft with integrated sensor and data link systems required to deliver persistent flight that enables situational awareness and rapid strike. The company also produces a variety of ground control stations and sensor control/image analysis software, offers pilot training and support services, and develops meta-material antennas. For more information, visit www.ga-asi.com.
Reaper, Predator, and Lynx are registered trademarks of General Atomics Aeronautical Systems, Inc.
For more information contact:
GA-ASI Media Relation
General Atomics Aeronautical Systems, Inc.
+1 (858) 524-8108
ASI-MediaRelations@ga-asi.com