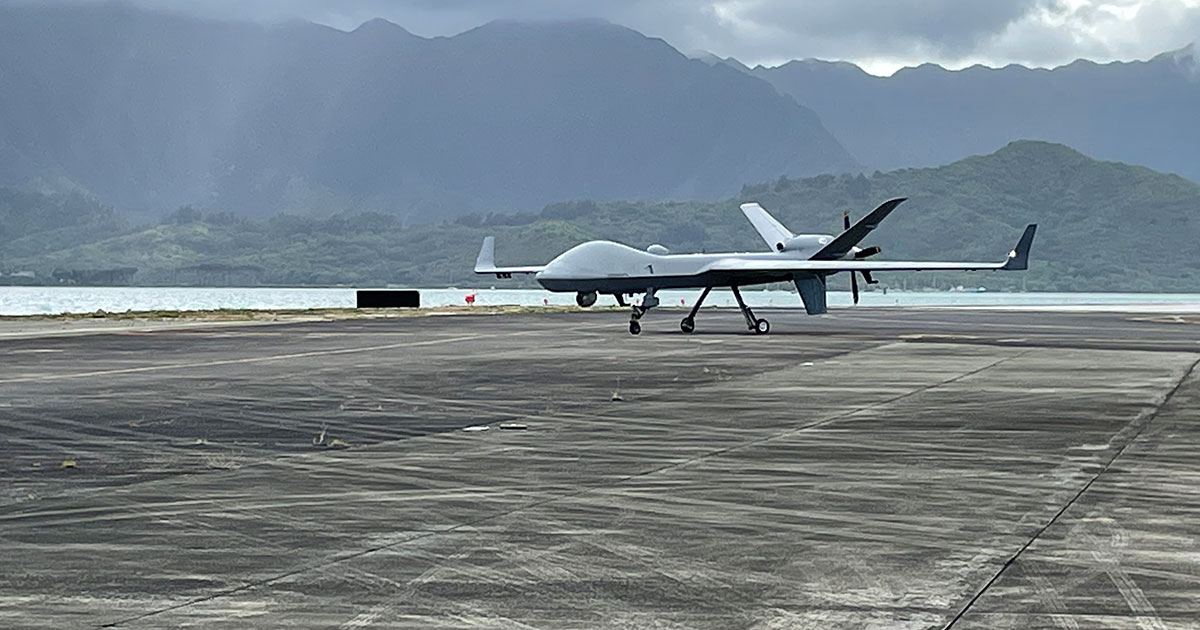 Expanding the Roles of MQ-9
RIMPAC Showcases a New Role and Mission for the World's Leading UAS
Unmanned aircraft always have shown virtually limitless promise. Sometimes, though, people need to see to believe.
A generation of American and allied troops and leaders came to know the MQ-1 Predator and MQ-9 Reaper as intelligence and counterterrorism tools with important combat air support roles. But could these and newer aircraft play a different game in different environments elsewhere?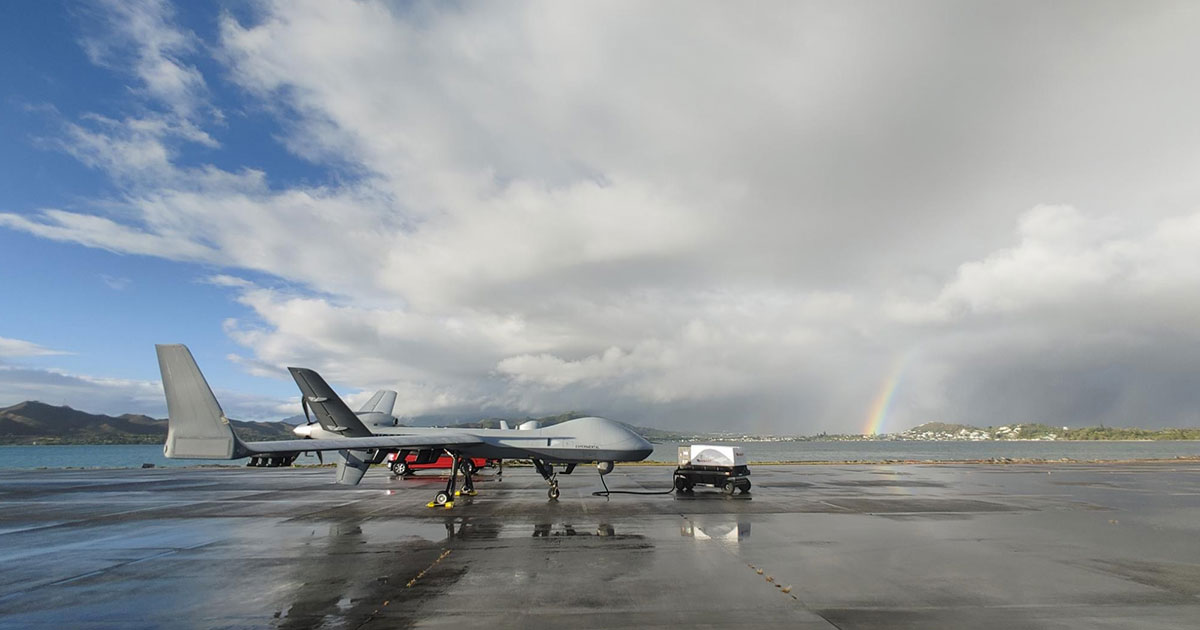 The answer is a resounding yes—and the U.S. military and its allies are expanding these roles and missions regularly.
Some recent examples include the myriad exploits recorded by unmanned aircraft systems in support of the international Rim of the Pacific (RIMPAC 2022) exercise, the largest event of its kind in the world. Twenty-six nations, more than 25,000 personnel, 38 surface ships, and many unmanned systems all took part in a month's worth of simulated combat and other maritime support operations in the Pacific Ocean off the coast of Hawaii.
At the center of this exercise was the MQ-9B SeaGuardian®, which served as a network and intelligence services provider for air, surface, and subsurface operations.
The MQ-9B SeaGuardian, operated for the U.S. Navy in the exercise by builder General Atomics Aeronautical Systems, Inc., notched several first-ever milestones. Completing over 15 missions totaling more than 111 flight hours, the aircraft took off, landed, and taxied automatically over satellite and seamlessly handled numerous assignments to support the exercise, in many cases managing multiple assignments simultaneously.
The MQ-9A Reaper, which remains the mainstay of the U.S. Air Force and other advanced military services, also contributed significantly.
Unique Capabilities
MQ-9 aircraft can stay aloft longer than any human-occupied platforms, giving Navy commanders capabilities to do things they wouldn't be able to accomplish any other way. With many hours of endurance, the aircraft can search huge sections of ocean, maintaining vitally important surface and subsurface pictures—groups of surface vessels or submarines—for long periods of time, as well as serving as networking nodes for the strike force and much more.
Even if an aircraft might not release its own weapons in a combat scenario, MQ-9 can be the eyes and ears for other units that do. As part of an integrated strategy, it can be partnered with an aircraft carrier, cruisers, destroyers, littoral combat ships, unmanned surface vessels, other aircraft, and more.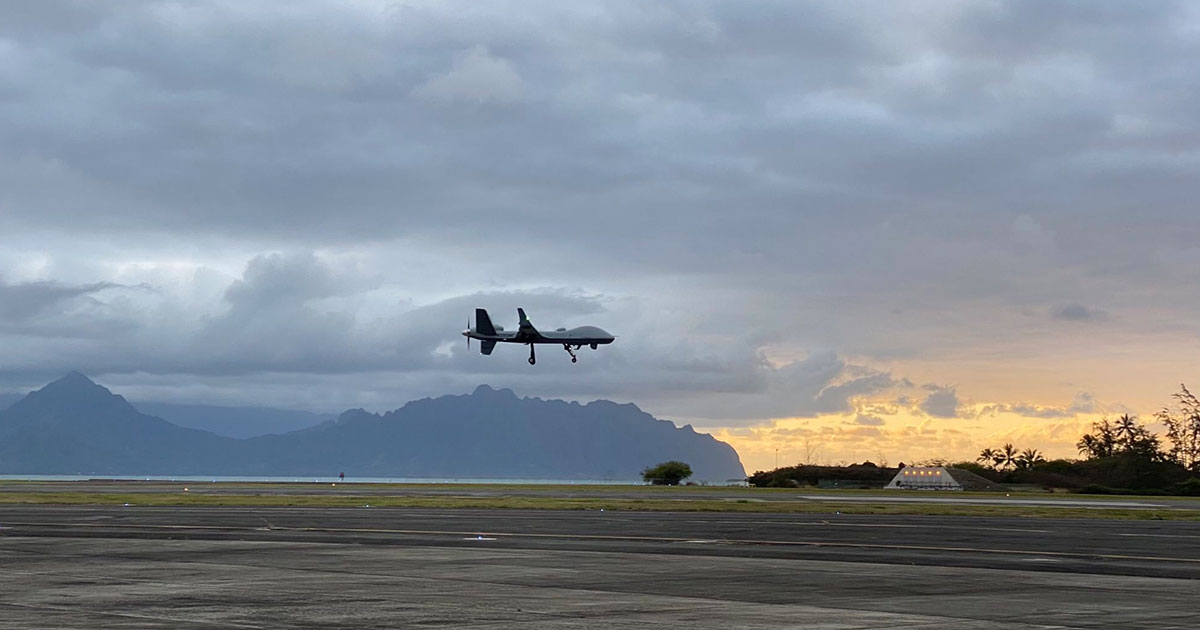 Case in point, as part of a live RIMPAC scenario simulation, a U.S. Air National Guard MQ-9 helped ships and aircraft from Australia, Canada, Malaysia, and the United States overcome an opposing force and then culminated the exercise by using real weapons to sink a decommissioned warship.
Meanwhile, also in support of RIMPAC, the MQ-9B SeaGuardian used its electro-optical/infrared sensor to positively identify targets at long range. The synthetic aperture radar fed detailed surveillance tracks to other units over Link 16. The aircraft also used its suite of intelligence and networking equipment to nest deeply within the secure communications and operations of the sprawling exercise.
The SeaGuardian hunted for submarines, conducted long-range targeting, collected electronic and signals intelligence, managed radar tracks and more—all at the same time, over many hours of long-endurance operations above the ocean.
Advanced Sensing and Integrated Operations
The MQ-9B's multiple sensors and other capabilities reinforce each other: it might, for example, collect electronic intelligence suggesting that a distant target is present, build a geo-location, and then cross-cue its radar or electro-optical/infrared sensor to search for that ship, enabling it to positively identify the vessel. Then naval commanders can decide what to do next.
They might determine that the vessel is harmless commercial traffic. They might assign the SeaGuardian to stay with the vessel and watch it—for hours, if necessary, exploiting the aircraft's unparalleled endurance. Or they might assess the vessel as a threat and order other units to intercept it.
These kinds of capabilities are what make the MQ-9B one of the most in-demand aircraft of its class. The United Kingdom's Royal Air Force, Japan's Coast Guard, and others are acquiring the aircraft to carry out these kinds of missions and many others. A proprietary Detect and Avoid System means MQ-9B operators can comply with "Detect and Avoid" requirements necessary for aircraft integration into the normal flow of aviation traffic with no special considerations or restrictions as was necessary with older UAS. Indeed, after several favorable trial flights, the U.K.'s air traffic control authority described how successfully it worked with MQ-9B.
Like its MQ-9B sibling, the MQ-9A Reaper also remains on the leading edge of new roles and operations. In a separate exercise called Valiant Shield, an aircraft flew from Hawaii to Guam to an airfield on the South Pacific island of Palau—a place it had never been—and landed without any human control. Not only did the operations prove the ongoing reliability of the aircraft's automated takeoff and landing capability, but they showed how flexible the MQ-9A is. It can go places that people might not expect, take off and operate, then land someplace else, and so on—keeping adversaries guessing.
RIMPAC and the other exercises proved again that these aircraft are valuable units on their own, patrolling a box of ocean or an important strait to provide constant situational awareness about what's taking place in a given area on or below the surface. There are also more than a few unplanned real-world examples.
In one situation during RIMPAC, an MQ-9A Reaper heard a distress call from a vessel on fire. The aircraft's pilot asked permission to depart the naval exercise area and investigate. He flew the Reaper toward the vessel that called for help, picked it up on his sensors, and began to help coordinate the rescue with the allied ships and aircraft in the area. Two people were rescued and flown to a hospital in Hawaii.
The story illustrates another important lesson: these aircraft are just as invaluable when matched with other units.
Manned-Unmanned Teaming
Stories like the one above demonstrate the effectiveness of manned-unmanned teaming, and GA-ASI's long leadership in remotely operated systems gives it and MQ-9B a huge advantage in this arena. The SeaGuardian's human operators work from a ground control station that could be sited anywhere and integrated into the same secure command and control networks as any other units. The aircraft can be retasked as needed or take on unplanned assignments just as any other unit might.
It also can be additive to many other operations. For example, imagine a human-flown maritime patrol aircraft drops a line of sonobuoys—special sensors that submerge under the ocean's surface to detect submarines. But then that conventional aircraft runs low on fuel and must return to base. MQ-9B SeaGuardian could take on the task of monitoring the data from those sonobuoys as it handles its other duties. Or it might drop sonobuoys of its own, and upon finding a submarine, call in a human-flown aircraft.
All these advantages only scale up when more aircraft are available. Working in shifts with several aircraft in a squadron, where one replaces another, or several operate together with others relieving them, naval commanders get near-nonstop, networked, vast domain awareness that isn't possible any other way. SeaGuardian can do this more efficiently given its long endurance and onboard multi-mission payloads, thereby reducing the cost of operations and fatigue life expenditures of manned aircraft. This efficiency in turn translates to significant cost savings and longer lifespans for maritime patrol and reconnaissance aircraft currently in the inventory.
The promise afforded by these kinds of operations over multiple domains—open ocean, coastal areas, land, and more—is what has prompted the U.S. Marine Corps to add the MQ-9A Reaper as the centerpiece of its strategy for advanced expeditionary basing operations. With a growing fleet of aircraft and a dedicated military occupational specialty devoted to unmanned aircraft operations, the Marines are a great example of a naval service taking advantage of new ways to exploit what UAS have to offer.
As RIMPAC and other military exercises have proven, there's virtually no limit to the value they provide.