General Atomics Aeronautical Cybersecurity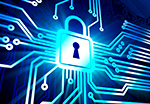 General Atomics Aeronautical Cybersecurity
General Atomics is committed to protecting and securing critical and sensitive information, and maintaining a pro-active posture on all cyber-security related matters. It is our intent to keep information in the right hands. As required by our
Supplier Code of Conduct
, Suppliers, vendors, and sub-contractors are required to respond vigilantly to information system breaches, and/ or losses of virtual and/ or physical property containing Covered Defense Information (CDI) or Controlled Unclassified Information (CUI).
Cybersecurity Resources
Cybersecurity Resources for Small Businesses
Incident Reporting
If your business has been the victim of, or suffered a cybersecurity incident, contact the Department of Defense at https://dibnet.dod.mil within 72 hours of a discovered incident. Follow all instructions provided by the Contracting Officer; and isolate and freeze affected systems and data. Do not delete any information related to, or suspected to be related to the incident. If GA-ASI or GA-ASI customer information is the subject, please provide the incident report number, automatically assigned by DoD, to your GA-ASI Buyer as soon as practicable.