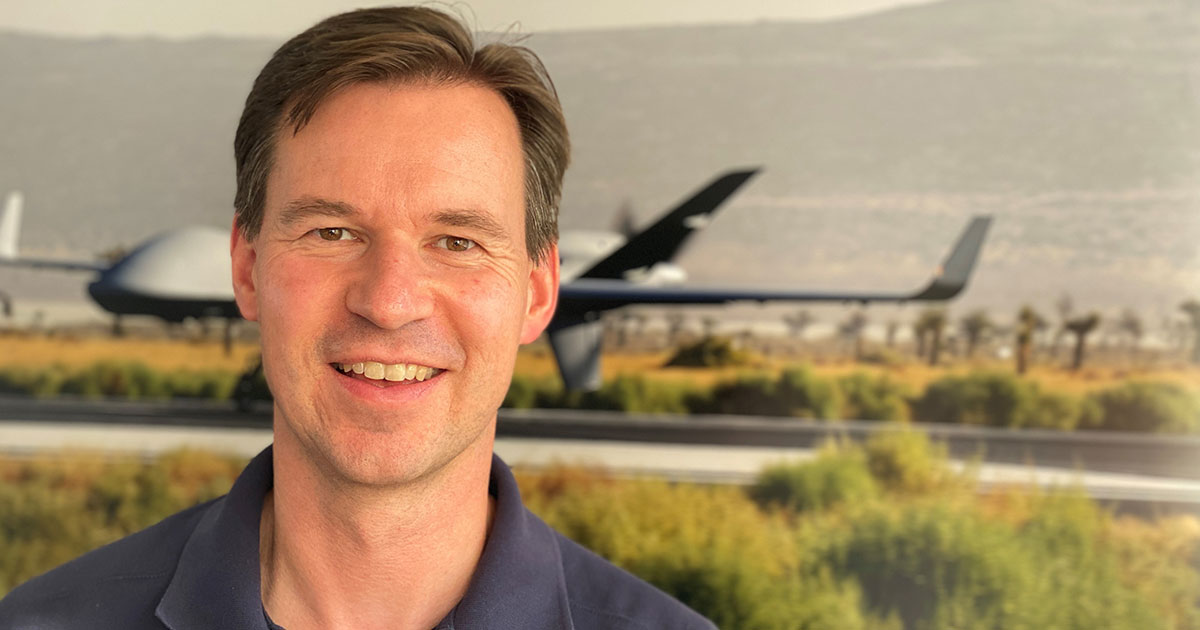 5 Questions on UAS Airspace Integration
5 Questions on UAS Airspace Integration
Tim Bleakley knows a lot about how airplanes work.
For 16 years, Tim served as an Engineer Officer in the Royal Air Force, supporting fast jet combat aircraft and unmanned aircraft systems (UAS) in the United Kingdom. After growing up in Kent, England, he studied engineering at the University of Cambridge, and later completed a master's degree in Aerospace Vehicle Design at Cranfield University while serving in the RAF.
Tim joined General Atomics Aeronautical Systems Inc. (GA-ASI) eight years ago, to help design and certify the MQ-9B SkyGuardian. As an Engineering Supervisor supporting UAS Civil Airspace Integration, he is focused on all aspects of enabling remotely piloted aircraft to fly in the National Airspace System — from national and international rulemaking and standards development, to guiding development and testing of equipment and systems to solve the technical challenges.
We grabbed a few minutes on Tim's calendar to ask him five questions about UAS Airspace Integration, the evolution of the technology, and what comes next.
1. What does "UAS Airspace Integration" mean?
UAS Airspace Integration represents the long-term goal of being able to fly large, unmanned aircraft anywhere, at any time, alongside existing airspace users, and using common airspace management systems.
There are three general stages that lead to that goal: Segregation, Accommodation, and Integration. All UAS flying started in the Segregation category. Many operations are still done that way — other aircraft are kept out of the areas where UAS are flying.
Accommodation involves adding special procedures or local systems for UAS, such as dedicated, ground-based radars, to allow them to fly in certain conditions in non-segregated airspace.
Integration involves either equipping the UAS with the systems needed to safely follow all right-of-way rules of the air and existing airspace management procedures, or rolling out new universal systems and procedures that allow for UAS to fly safely among all other aircraft.
2. What is a Detect and Avoid System? How is it important for UAS?
A Detect and Avoid System provides a technological replacement for the function of a pilot looking out of the cockpit of an aircraft. It allows a remote pilot to follow right-of-way rules of the air by seeing where all other nearby aircraft are, and how to remain well clear of them. It can also enable the UAS to automatically avoid collisions.
GA-ASI's DAA system uses an air-to-air radar to replace the view from the cockpit, and uses existing transponders and the traffic collision avoidance system to detect and avoid aircraft much further away than a pilot can see with her or his own eyes. It's also important to remember that our UAS always have had human pilots – they're just not onboard the aircraft. Our DAA system permits them to do the same things from their ground control stations they would if they were in a cockpit onboard.
3. What progress has GA-ASI made in the pursuit of integrating its UAS into civil airspace?
GA-ASI's UAS have been approved for many years to fly Beyond Visual Line of Sight (BVLOS) in Controlled Airspace, above 18,000 feet, where only Instrument Flight Rules traffic is allowed. These are the altitudes and the regimes used by the biggest and most sophisticated aircraft.
Our technological progression and regulators' approvals culminated in a transatlantic flight of our SkyGuardian UAS to the UK in the summer of 2018. Getting up to Controlled Airspace and down again required a combination of segregated airspace and safety observers in chase planes. To remove those restrictions, GA-ASI has been leading the development of technology and standards for Detect and Avoid systems for a decade, with industry partners and with NASA.
In 2018, NASA flew the first flight of a large UAS through mixed-use airspace that did not require safety observers in chase planes, using their MQ-9-based Ikhana UAS equipped with the DAA System we developed. In 2020, we integrated that same DAA system into our own SkyGuardian UAS for NASA's System Integration and Operationalization (SIO) project.
As a result, we obtained the first FAA-issued operating approval for end-to-end BVLOS operation of a large UAS in the U.S. National Airspace System. That same approval was leveraged in 2020 by Japan's Civil Aviation Bureau to allow SkyGuardian to fly BVLOS from the Japanese Navy's Hachinohe air base and throughout the maritime airspace surrounding Japan.
Now we are flying SkyGuardian for the first time BVLOS in non-segregated UK airspace with the approval of the British Civil Aviation Authority.
4. GA-ASI considered flying SkyGuardian over San Diego during that partnership flight with NASA. Why did that plan change?
NASA wanted its partners to demonstrate a mission with significant potential for commercial value.
We made ambitious plans to fly over our home city of San Diego, surveying infrastructure and land for the benefit of local authorities, utilities and other commercial organizations. We knew that we could do it safely from high above the city, and above the air traffic going in and out of San Diego International Airport, as well as other military and civilian airports in San Diego County.
When it came to the approvals, we were working closely with the FAA on a brand new process for UAS BVLOS operations, but we were not able to complete it before the backstop for our demo flight, when our aircraft had to be prepared for its next demo series in Japan. It was all about timing.
In order to fly both the SIO demo and the Japan demo as planned, we changed our route of flight to make use of existing approved routes that did not rely on BVLOS operation using the DAA System. After the SIO demo, we continued to work with the FAA, and achieved their first approval for BVLOS operation of a large UAS using their new process. These are groundbreaking efforts requiring a lot of coordination, training, and approvals.
5. Do you think it's safe for SkyGuardian to fly in commercial airspace alongside civil aircraft?
The DAA System onboard SkyGuardian gives its remote pilot a traffic picture that's even better than the one a pilot typically gets from looking out of the cockpit, making it easy to remain well clear of other aircraft.
SkyGuardian itself has been designed to the highest aviation safety standards required for an aircraft of its size, and uses components with proven reliability. We've looked at all the possible failures, and their consequences and mitigations.
With any new technology or aircraft, it's appropriate to begin cautiously and demonstrate confidence in its capabilities. We've done that through nearly five years of flight testing, and I am very confident that it's safe to fly in civil airspace with other air traffic.
-ISR/24/7/365-