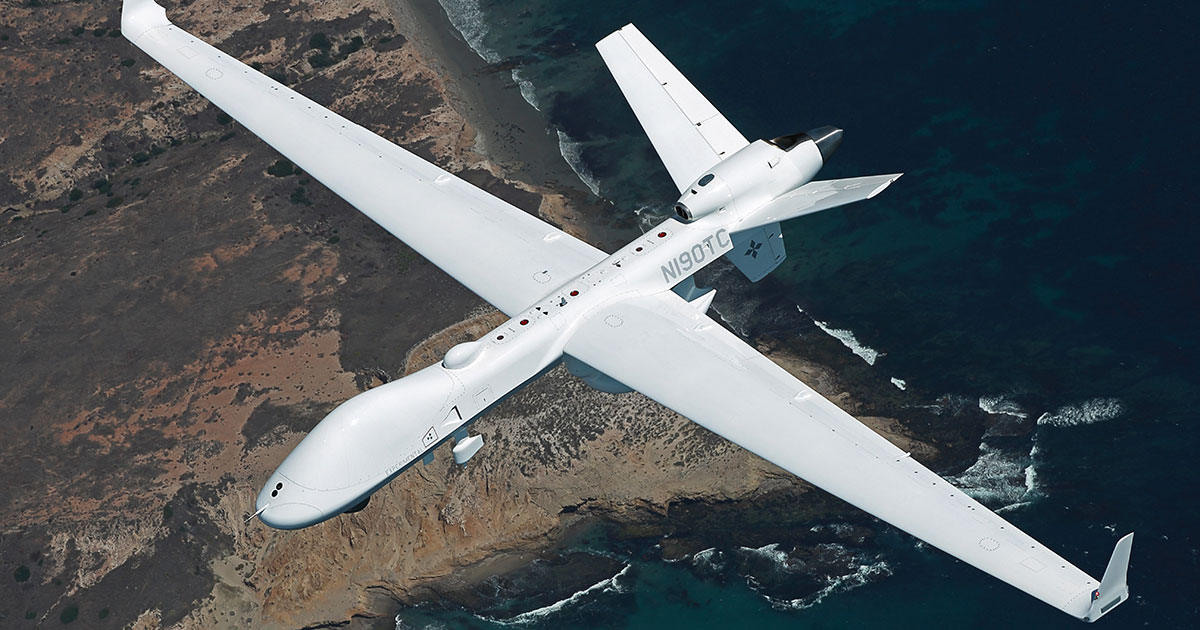 MQ-9B: SkyGuardian vs. SeaGuardian
By Philip Ewing
The MQ-9B SkyGuardian is the world's most versatile remotely piloted aircraft of its class in the air today – except when it's equipped for missions over the ocean.
Then it's just as essential, but known by a different name: the MQ-9B SeaGuardian.
It all starts with the MQ-9B SkyGuardian. That's the newest and most capable member of an unmanned aircraft series built by San Diego-based General Atomics Aeronautical Systems, Inc. The members of this family have more than 6 million hours of operational use, much of it in combat. A highly sensitive electro-optical infrared sensor ball and GA-ASI's Lynx multi-mission radar are built into the aircraft.
A SkyGuardian can fly "clean," with only those sensors and its other stock onboard equipment, and remain airborne for more than a day. It also can take onboard a growing range of advanced payloads that enhance its ability to sense, communicate and execute other operations – including launching its own clutch of smaller unmanned aerial systems such as GA-ASI's Sparrowhawk, which can take off and return mid-flight to the mothership SkyGuardian.
The payloads can include weapons too, from air-to-ground missiles and bombs to air-to-air missiles to electronic systems that can degrade an adversary's anti-air systems.
Adding specialized payloads transforms the SkyGuardian into a SeaGuardian, ready for action over the ocean.
A SeaGuardian can use its onboard sensors to search the air and surface, but also carries a dedicated maritime surface search radar and equipment that lets it tune into the nautical Automatic Identification System, which ships use to broadcast details such as their names, types, origins, destinations and more.
If a ship turns off its AIS or authorities operating the SeaGuardian want to look closer at the vessel, the aircraft can read the name off its stern, assess what type of ship it truly is or in what configuration, and resolve other such details on its own.
The SeaGuardian also can search under the surface, too. Equipped with as many as 80 G-size sonobouys, the aircraft can initiate or join the hunt for hostile submarines along with conventional naval units such as vessels, shipboard helicopters or human-crewed patrol aircraft. GA-ASI's aircraft have been proving out these capabilities in demonstrations including along with the U.S. Navy.
So a SeaGuardian is a SkyGuardian and vice versa – both variants of the MQ-9B, ready today to support military, security or other requirements anywhere they're needed.
-ISR/24/7/365-