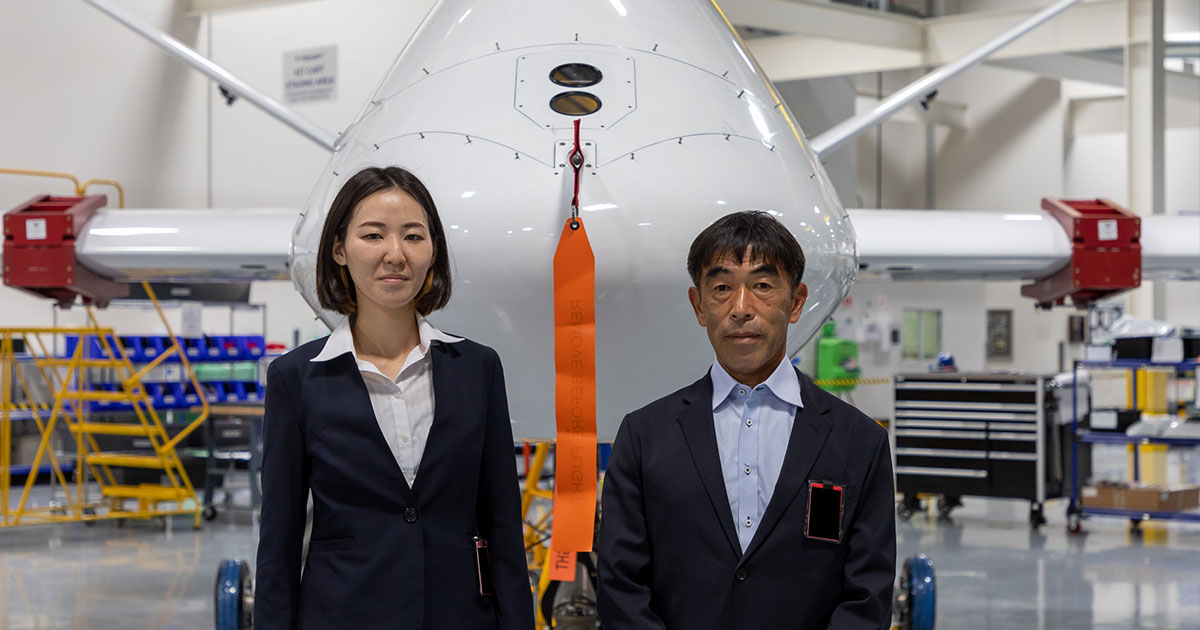 GA-ASI Welcomes Former Japan Maritime Self Defense Force Officers to Lead MQ-9B Operations in the Indo-Pacific
Former Japan Maritime Self Defense Force (JMSDF) SH-60K Sensor Operator, Ms. Manami Ide (left), and former JMSDF EP-C Mission Commander, Mr. Toru Hamakubo (right), joined the General Atomics Aeronautical Systems, Inc. (GA-ASI) team to provide their expertise in maritime ISR to support upcoming missions in the Indo-Pacific region. We asked them how they feel about stepping into the world of Unmanned Aircraft Systems (UAS) operations…
What was your view on UAS before you started your position at GA-ASI?
Ms. Ide: UAS was the kind of futuristic stuff you only see in movies and videos. When I was working for the Maritime Self-Defense Force, several servicemen died in the line of duty when their helicopter crashed, and I thought that assets like unmanned aircraft could reduce such tragedies.
Mr. Hamakubo: My image of UAS was that they were aircraft that can monitor terrorist activities from high altitude, providing situational awareness to troops, etc., and depending on the situation, strike if needed. UAS in my mind was a successor to reconnaissance manned aircraft such as the U-2 and SR-71, the gathering information on target areas from high altitude.
What was your impression of the UAS control console?
Ms. Ide: The design seriously considers human factor elements and feedback from other customers, making it very comfortable to operate and reduce fatigue even after long hours. I also felt that pilots and operators could operate the console comfortably, conduct various types of missions with the multiple screens and flexibly change the information displayed.
Mr. Hamakubo: Seeing the actual aircraft and related systems for the first time, I appreciated the engineering sophistication behind it and was amazed by its performance, especially the endurance. Its capability to carry onboard wide variety of sensors is also truly amazing. The console not only has the standard flight status display but can also visualize data collected by the sensors, COP (Common Operating Picture) and orders from the Mission Commander and got me thinking of how to best leverage this information-rich environment in actual customer operations.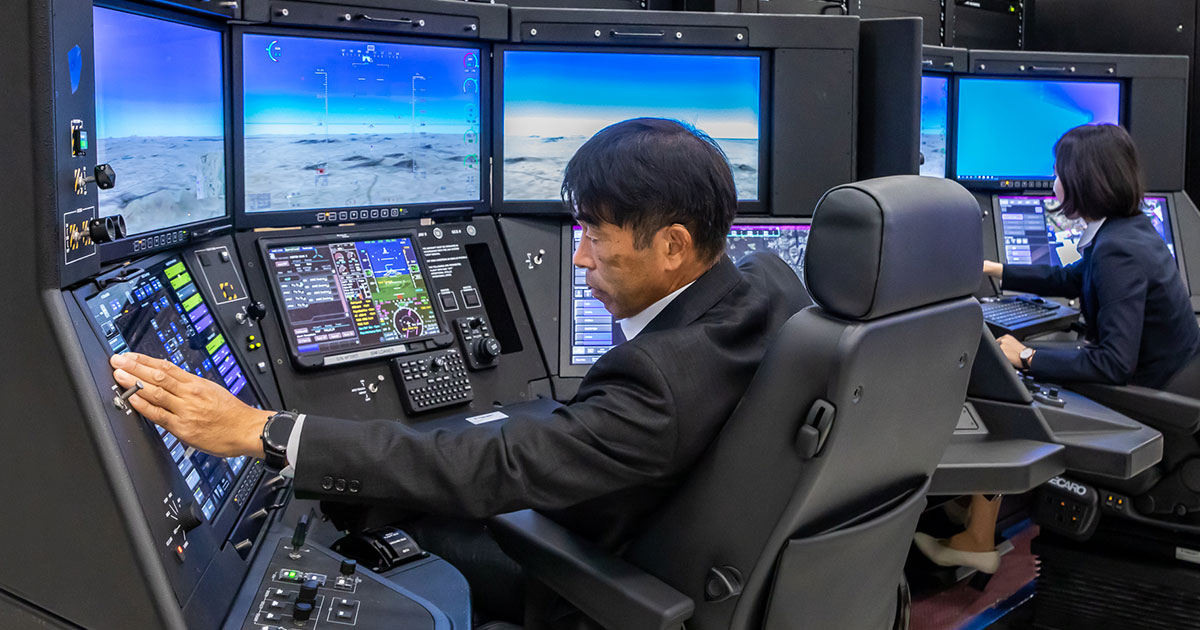 What differences did you feel there in operating a UAS, in comparison to manned aircraft?
Ms. Ide: Maritime patrol areas can be expanded, and early target detection is possible with less crew due to the reduced overall operational and physical burden, including aircraft pre- and post-flight operations. During my visit to GA-ASI's El Mirage Airfield, I saw no major difference in UAS maintenance/operations with respect to manned aircraft, and everything was very smooth. All the aircraft flying were very silent, and I felt that there would be very few obstacles to operate these assets 24/7, especially in case of the need to respond to an emergency. I was also able to witness a MQ-9B in the SeaGuardian configuration equipped with a sea-surface radar for the first time. Compared to manned aircraft, the compactness and lighter weight of unmanned aircraft, even when equipped with a large radar, means the MQ-9B can maintain long endurance and I see that as an attractive feature of unmanned aircraft.
Mr. Hamakubo: Initial analysis by sensor operators and in-depth investigation by the analysts, aided by other external intel/information feeds, can be conducted simultaneously side-by-side, allowing extremely efficient information collection and rapid response to events. In addition, since the GCS can carry out its mission while observing the same COP as the higher-level decision makers (command post, etc.), the crew members can carry out their mission in unison with the decision makers without any discrepancies.
Who would you recommend for future maritime patrol-related work using RPAS at GA?
Ms. Ide: First of all, the ideal candidate should love aircraft, the sea, and anything related to operations, haha! A background in air navigation/operation and radars/radios would also be key to maritime ISR jobs. Maritime ISR also needs to deal with submarines, so those who are knowledgeable about submarine operations and underwater surveillance would also be great candidates.
Mr. Hamakubo: As for operators, compared to EO/IR, SAR, AIS, etc., ISAR and ESM detection information requires deeper knowledge and experience in identification, etc. Operators with such experience in P-1, P-3C, EP-3, and OP-3C [human-crewed maritime patrol aircraft] will be effective.
As for tactical coordinators, if they are to conduct mainly ISR missions at high altitudes, the Senior Evaluator of EP-3, who has conducted missions at similar altitudes by evaluating target events through the fusion of various information, would be suitable, too. In addition, if the mission is mainly to identify targets by visual observation, via aircraft EO/IR in close proximity at low altitude, the Tactical Coordinator of P-3C and P-1 is suitable.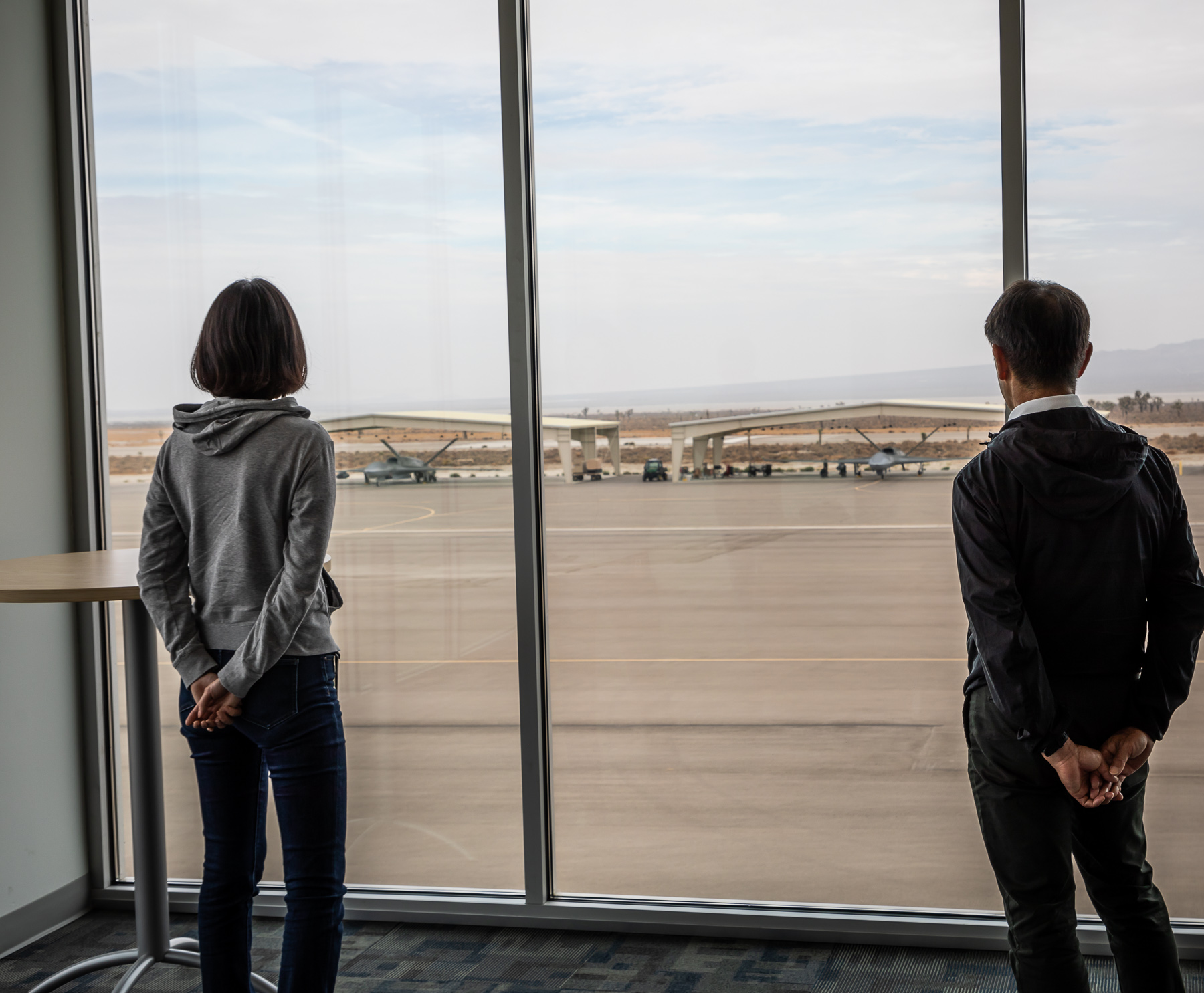 Based on your experience working with manned aircraft, what role do you think RPAS will play in the future?
Ms. Ide: Besides unmanned aerial vehicles (UAVs), unmanned surface vessels (UAVs) and unmanned underwater vessels (UUVs) are also being developed and operated to protect maritime safety around the world. The role of protecting maritime safety is fraught with danger. In the future, I believe that unmanned aircraft will be at the forefront of maritime safety in Japan, in view of the country's declining population and help prevent any loss of life of those that are serving at sea.
Mr. Hamakubo: UAS is suitable for continuous surveillance over a wide area of the ocean due to its prolonged endurance. In addition, foreign naval vessels and aircraft have recently also been conducting longer-term fleet operations and training in the waters surrounding Japan. I believe UAS is suitable to continuously monitor these long-term activities.
Is there any special significance of maritime ISR/RPAS-related work for you?
Ms. Ide: I grew up in a family where the sea was an inseparable part of our lives: my father was a Maritime Self-Defense Force officer, my mother was from an island, my grandfather was a fisherman, and I myself was born on a small island. As an island nation, ensuring security around the sea surrounding Japan is important not only from the defense perspective, but also for the protection of the ordinary people's lives, keeping the economy going by securing sea routes for imports and exports. The sea is the origin of my life and being able to protect the ordinary life that the sea brings to us is satisfaction that no other job can provide.
Mr. Hamakubo: Based on my experience in the Maritime Self-Defense Force, I believe that I can build an efficient mission concept for maritime ISR by quantitatively understanding the capabilities of these sensors onboard the MQ-9B and appropriately integrating this information for the customer. I believe that this is a challenging job where I can fully utilize my knowledge and experience.
Why did you apply to this position and what is your future goal for this career?
Ms. Ide: After I retired from the Maritime Self-Defense Force, I entered an industry that had no relevance to defense or aircraft, and I was very disappointed that I could not make much use of the experience I had gained over the past 10 years and felt a renewed love towards aircraft. When I heard about the position at GA-ASI, I thought there might be something I could leverage from my previous experience in helicopter operations. Going forward, I would like to make more people aware of the benefits UAS can bring and be part of the Japan UAS operations team.
Mr. Hamakubo: I believe that this is the only position in which I can make full use of my experience in the Ministry of Defense (aircrew, intelligence gathering and analysis, operations analysis, overseas service, etc.) and in the local government crisis management department. I would like to contribute to proposing effective operational concepts for the MQ-9B around Japan by utilizing the knowledge and experience I have gained through my past service. In addition, I would like to make efforts to ensure smooth communication between the MQ-9B customers around the world and GA-ASI in the U.S., so that we can operate the MQ-9B in the most effective manner.
For more information contact:
GA-ASI Media Relations
General Atomics Aeronautical Systems, Inc.
+1 (858) 524-8108
ASI-MediaRelations@ga-asi.com